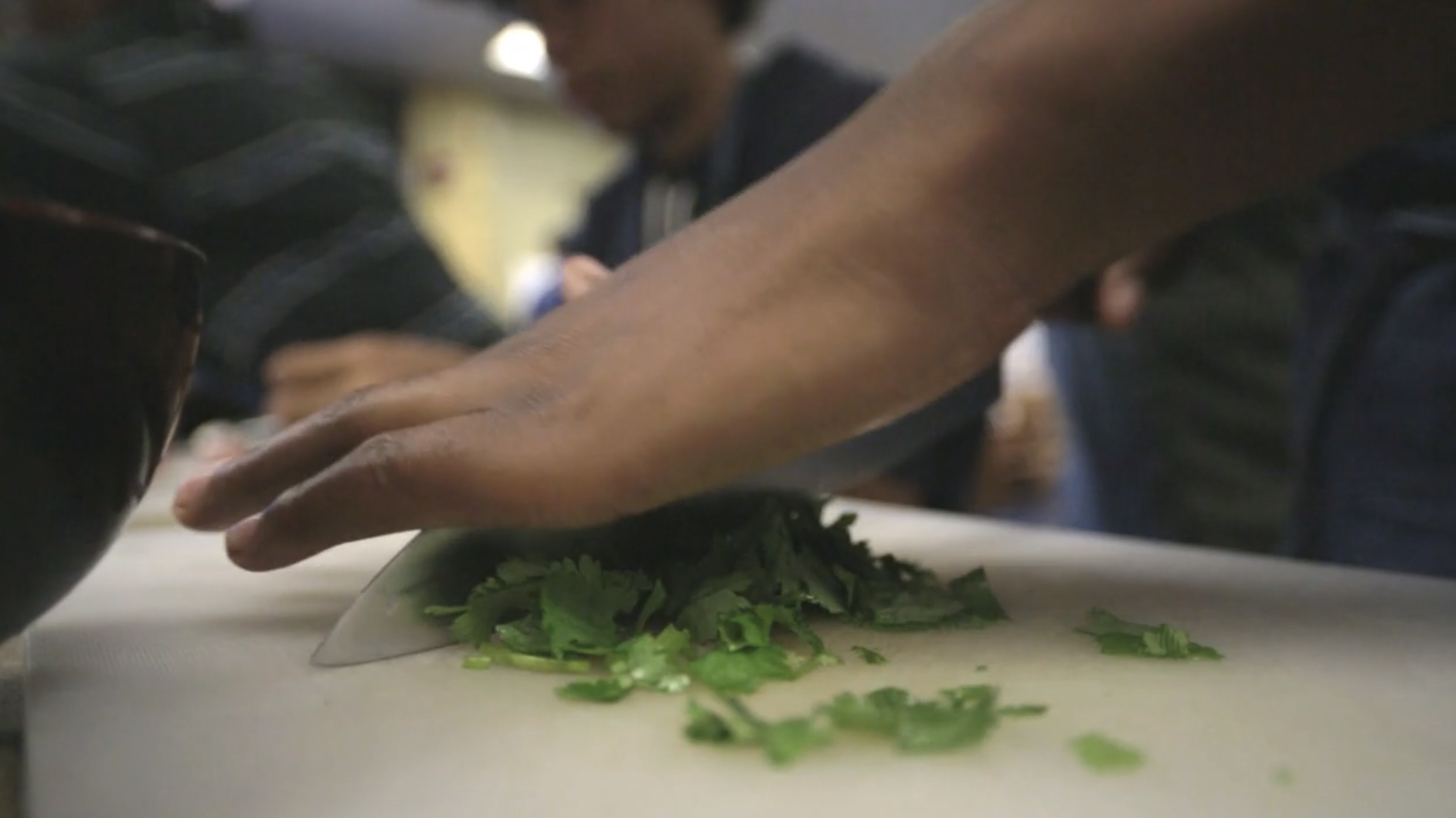 Supporting Students to Take Age-Appropriate Risk
Often the first question I get from visitors to a kitchen class, whether they are parents or educators, is, "how do you prevent kids from cutting themselves?" While avoiding injuries is important to us, it doesn't take priority over skill development, which inevitably involves some degree of risk. Students are interested in their wellbeing and safety. They don't want to hurt themselves and are keen to learn how to work safely when using new and potentially dangerous tools. When we teach students knife skills, we are also helping them develop awareness of how to use knives safely. Students must have opportunities to work with tools that pose some risk to learn how to mitigate those risks themselves.
In the Edible Schoolyard classroom, we set our students up to take age-appropriate risk. Nearly all of our sixth-grade students have the fine motor skills, maturity, and responsibility needed to safely use an 8" chef knife and practice mincing, slicing, and chopping. I've seen thousands of students hone these skills and develop a strong sense of what they can and cannot do safely with a knife. Many students had never used a chef knife before because their guardians thought it too risky. Parents are often surprised (and thrilled) to learn of their student's skills when cooking together at our Family Nights Out classes.
When we trust our students and demonstrate our belief in their ability, they want to prove us right. Holding and expressing confidence in our youth is critical for their growth and skill development. Holding ourselves back from protecting them from every harm is hard but essential. Invite your young people into the kitchen. Let them mince some parsley and help them notice that their finger is too close to the blade. Let them take the roasted vegetables out of the oven and be close by with another oven mitt in case they realize it is too heavy. Let the little ones use a peeler or grater and support them in reflecting on how they scraped their knuckle and what they'll do differently next time. 
If your child is hesitant, work with them and their fears. If they are scared to try something new, help them identify ways they can approach their boundaries without crossing them. Perhaps putting something into the oven is too scary, but opening the oven door is doable. Repeated, safe, and successful experiences will help them feel more confident to take the next step. Help them see what you see and understand how you keep yourself safe by making your thinking visible to them. 
The kitchen is a wonderful place for youth to learn and practice responsibility, risk management, and independence. We can support them in this growth by allowing them to take appropriate risks. The next time you find yourself about to say "be careful" or "let me do that," consider what they could learn from that exposure to appropriate risk.