Waikiki Food Farm
Number of Individuals Program Serves:
About the Program:
 The Waikiki School Food Farm is about growing foods by kids for kids with a mission to encourage young children to love and protect their 'aina, discover where food comes from, and learn to take pride in growing their own food. The farm also serves as a valuable outdoor classroom resource for teachers and educators to use in addressing benchmark standards in all subjects. The farm was initiated and has continued to be supported by community volunteers, generous contributions from local businesses and the school's staff and families.
The farm is comprised of two orchards containing 65 fruit trees and over 4,000 square feet of edible growing space. Organic methods are used to maintain the gardens, meaning the whole campus is considered a natural ecosystem that encourages the growth and sustainability of beneficial insects and microorganisms. Students grow a variety of greens, herbs, squashes and taro with the signature produce item being heirloom tomatoes, a rare find in Hawaii. Most of the produce is eaten fresh on campus, brought home by students to share with their families, or distributed to families through a weekly produce basket program. One of our future goals is to produce enough fruits and vegetables to provide for all of our students.
Program Members: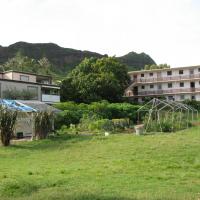 Debbie Millikan