Leckie Elementary School
Number of Individuals Program Serves:
About the Program:
At Leckie Elementary, we strive to make sure that every single student is engaged and challenged. We currently have 9 raised beds, and would like to add 12 more through this grant. This would make it so that every class of students would have their own garden bed. This would enable them to be invested in the full life-cycle of plants, from planting the seeds, to preparing the food after harvesting. The students' beds would be integrated into multiple subject areas, including science, math, language arts, and social studies.
Community is another important aspect of our garden goals. As we expand the garden space, more parents, staff, and community members are able to spend time in the garden. We see the garden as a wonderful space for community gathering already, and more beds increase our capacity for utilizing volunteers, as well as holding garden celebrations.
Program Members: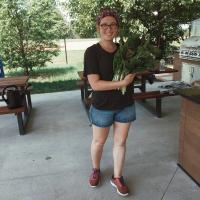 Kate Mitchell