Ivy Tech Associate Accelerated Program & IPS #87 Garden Project
Number of Individuals Program Serves:
About the Program:
Ivy Tech's ASAP Program and IPS school 87's Garden Project is a space wherein students experience the origins of food and is a hub for collaborative learning. Our unique project is a partnership between the Nation's largest singly accredited community college and a public K-8 school.  Moreover, students at both schools share similar socioeconomic  backgrounds: 100% of the students at School 87 qualify for free or reduced-price lunches, and the majority of Ivy Tech's ASAP students receive federal Pell Grants and state aid to attend school.  Both institutions are located in food deserts and many students at both schools regularly have meals from fast-food establishments or convenience stores. The project is grounded in the belief that food education in the garden is the first step towards building stronger communities in Indianapolis. 
The project goals are to teach students where food comes from, empower them be healthy, educated individuals, and to use this knowledge to give back to the local community through food donations and garden-focused community events.   The Garden Project cultivates teamwork between college students and the elementary students as they participate in a process that leads to new knowledge and sustainable change.  When students get their hands dirty, they have deeper insights, retain learning better, and are more likely to share their garden experiences with others. and are more likely to share their garden experiences with others. 
Program Members: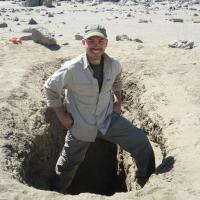 Jonathan Arbuckle
Administrator, Founder, Staff, Supporter, Teacher, Volunteer
Kristin Hancock
Founder, Staff, Supporter, Teacher