Healthy Communities Coalition
Number of Individuals Program Serves:
About the Program:
In the past year we have implemented 5 school gardens, 3 community gardens and 3 school hoop houses.  This year we will build 3 new school gardens and 5 new hoop houses. Last year we were able to donate over 8,000 pounds of produce to local food pantries, boys and girls club and senior center.  We have 2 farmers market that are not for profit, enabling local farmers to sell, as well as local families to eat well.  We are in the process of getting an EBT machine to use at these markets.  Food insecurity is a huge issue in our county and we are determined to make change. 
Working closely with farmers, teachers, counselors, administrators and of course the most important partner, kids, has been a great blessing.  With open minds and strong relationships, we have been able to create seven sustainable school gardens and hoop houses while continuing to offer technical support to outlying schools looking to grow their own.  Our gardens have encouraged two school Principals to incorporate their garden into a garden elective class and our Boys and Girls Club help to maintain gardens during the summer months.  High School interns also maintain gardens and mentor younger students on high desert farming, as well as running  our farmers market, selling school garden grown produce, as well as selling on behalf of local farmers.
 Living in a food desert presents many challenges as well as unique opportunities to strengthen community.  Our youth have become leaders around the most basic of needs, food.  Growing in community gardens with elders, teaching younger students of the importance of sustainability and wholesome food choices.  Advocates for change, our kids are truly shaping our future and they should never be underestimated. 
Program Members: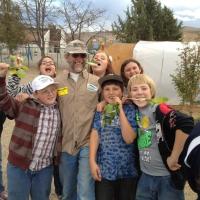 wendy Madson
Vasilica Dumitrasi