Hamilton Harvest Club
Number of Individuals Program Serves:
About the Program:
 Mission Statement: The Hamilton School Garden creates an environment where our families and our community grow and learn.
Vision: Through hands on education we can teach healthy living while making practical connections to the core curriculum.
Theme: Grow and Learn!
Hamilton Elementary in the School District of Lancaster is a mid-sized urban elementary school with approximately 500 students in grades kindergarten through 5th grade. Approximately 75% of our families qualify for free or reduced lunch. Hamilton prides itself on the great diversity of our students and families. Hamilton students are fortunate to attend an urban school that has 13 acres of land. With such a unique setting for an urban school, it is exciting to use the grounds as an instructional environment.
About 4 years ago, Hamilton staff and families built 31 raised bed gardens.  These gardens are intended for use by the school students and staff to create a better understanding of food sources, nutrition and healthy living.  The goal is to educate students and families and to outreach to the community through gardening and outdoor education. There are many studies that suggest that school gardens and outdoor classrooms enhance student achievement, especially in elementary education.There is a strong link to improved performance in math, science, writing, social studies and attitudes toward learning. Students can make academic connections through working together in a garden setting.  In addition, as we know, there has been a dramatic increase in childhood obesity. Children and families need a good knowledge base about nutrition and healthy lifestyles choices. School gardens provide experiences for students and families to improve their attitudes toward cooking and eating fresh fruits and vegetables. Our unique setting allows us to have enough vegetables and herbs to maintain a garden that will produce fruits and vegetables from spring through fall seasons. This produce can be used for nutrition and healthy eating lessons during the school day and for family events.
During the summer of 2013 we created a family co-op garden. The families agree to have their children attend a garden club 3 days per week after school and they also agree, as a family, to work a minimum of 6 hours per month in the garden during the summer.  With those criteria met, they are able to share in the harvest of vegetables such as peas, beans, potatoes, tomatoes, squash, lettuce, cantaloupe, watermelon and many more!
We have the ability to influence the healthy choices of children and families in our community. We are excited to have received the Fresh Fruit and Veggie Grant through the PA Department of Education and Smart Partners. This grant has provided tasting samples of fresh fruits and veggies to all of our students 3 times per week for the 2012-2013 and 2013-2014 school years! In addition, we are registered with Bill Scepansky as a partner in the Chefs Move to Schools program developed by First Lady Michele Obama. We have worked with such strong community partners such as Lancaster General Health, Lighten Up Lancaster, Community Action Program and Compass Mark. In addition, we have received generous monetary and material support from local and national companies such as Pennsy Supply, Landis Wood Works, Whole Foods, Inc. and ALCOA. 
Through this initiative, we are setting the stage for healthy lifestyle choices!
 
Program Members: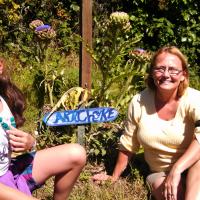 Paula Wilson