Ecotrust Farm to School
About the Program:
Ecotrust works with schools, childcare centers, hospitals, and colleges to increase procurement of local foods. One of the key tools we use to find farmers is FoodHub (www.food-hub.org), Ecotrust's online directory and marketplace for buyers and sellers of regional food.
Ecotrust has acted as the Lead Agency for the 8-state western region of the National Farm to School Network since 2007. Ecotrust is also a founding member of the Oregon Farm to School and School Garden Network as well as its Policy Workgroup, helping to support statewide farm to school programming and advocate for legislation to support Oregon foods in Oregon school meals.
Most recently, Ecotrust has been leading the National Farm to School Network's efforts to coordinate a national farm to preschool initiative, leading a statewide Farm to Preschool Coalition in Oregon, and exploring ways to connect low-income and minority producers and consumers in the food system.
 
Program Members: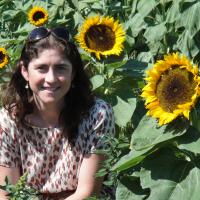 Stacey Sobell
Katy Pelissier