Abernethy Elementary School Kitchen Garden Program
Number of Individuals Program Serves:
About the Program:
Abernethy Elementary's School Kitchen Garden program provides kids with comprehensive food-based education, garden space, a working kitchen with a chef and fresh produce eaten at meals. Our goal: improve student learning and instill lifelong habits of health.
A key part of our program is our "Garden of Wonders," which is the living laboratory for the study of math, science, history, the culture of food, ecology, agriculture, and health. Students harvest food daily to taste, prepare, or have as part of their lunch in the school's working cafeteria. The school kitchen feeds over 400 students each day, and also serves as Portland Public School District's demonstration site, sourcing local, seasonal ingredients and testing nutrient-packed recipes using whole foods and minimally processed ingredients.
Abernethy Elementary School is a kindergarten through 5th grade public school in Portland, Oregon. The school's award-winning wellness policy emphasizes physical activity, moral character, stress reduction, walking, biking and the fact that our health and performance are directly related to what we put into our bodies.
Accolades from Across the Nation:
Oregon Green School status
First Oregon Wellness Award
Kiwi Magazine Crusaders Award
Health Magazine 2008 Healthiest Schools Report
Program Members: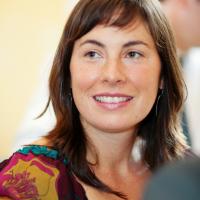 Sarah Sullivan