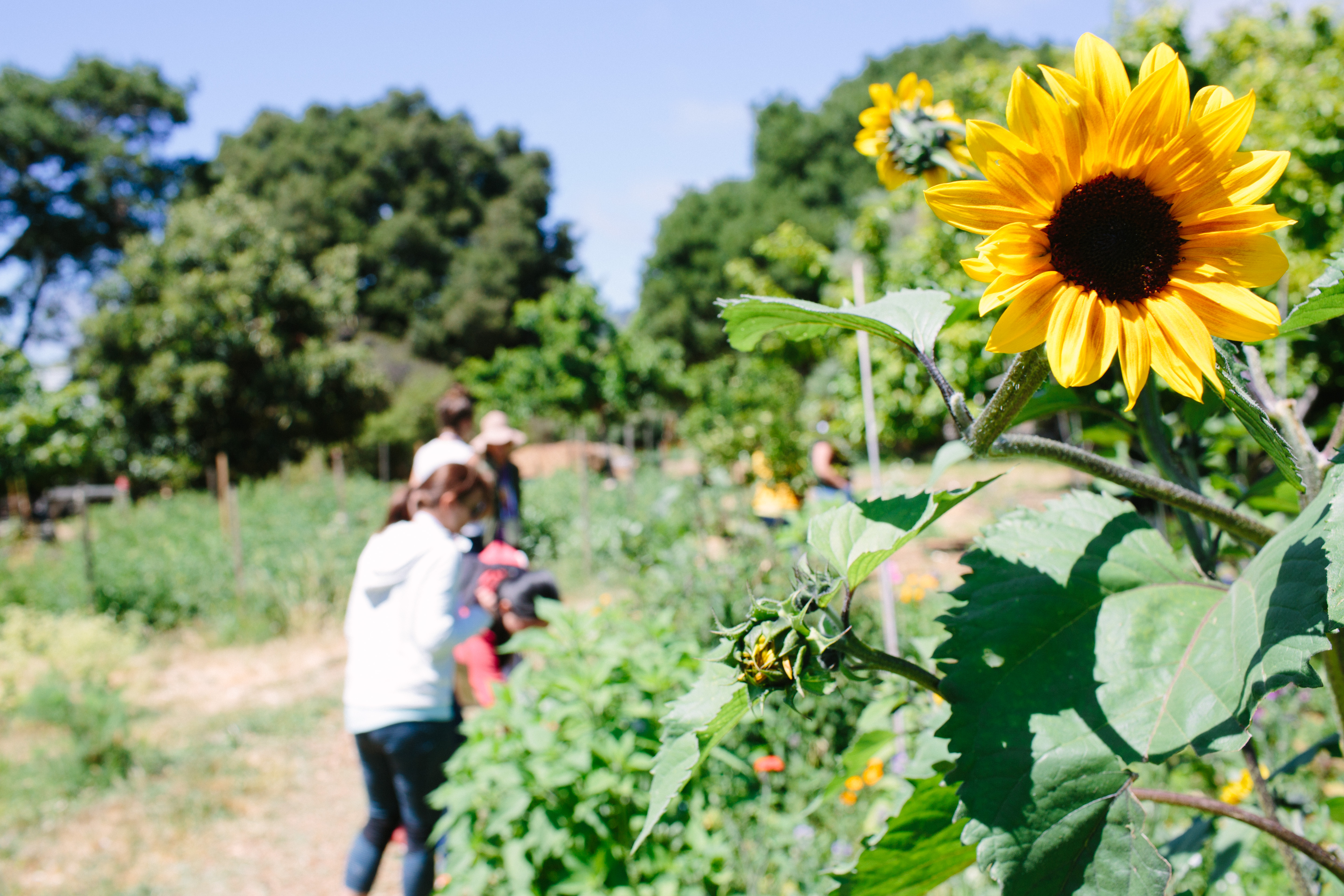 FREQUENTLY ASKED QUESTIONS ABOUT THE EDIBLE SCHOOLYARD SUMMER TRAINING
How do you select which programs attend the summer training?
We review each application using an objective scorecard. We award points based on the following criteria:
Applying as a team +2
Team includes a variety of positions +2
Public School +3
60% - 100% free or reduced meals population +3
Team includes members age 35 or under +4
Team includes people of color +4
Sustainable Funding +2
In California +2 
WRITTEN RESPONSES
One member of our staff will thoroughly read your written responses and keep notes on the scorecard for how they assign a 1 to 10 point score.
Your final number score puts you in the accept, waitlist, or, "sorry we are unable to accept you this year" pile. Even if your program doesn't match every single one of the above criteria, we still encourage you to apply. Our summer training has welcomed programs from a wide range of grade levels, institutions, and stages of development.
When will I hear if I am accepted to attend the training?
Keep an eye on your inbox the week of April 15th! We will notify all applicants about their acceptance and scholarship funds via email. 
Does my program need to be based in the Bay Area?
We welcome programs from across the United States as well as international programs to attend our training programs. In previous years, participants have come from all over the United States as well as from Denmark, China, Canada, Puerto Rico, Japan, and beyond.
The 2019 Summer Training will focus on the state of California with the intention of building a strong network of organizations that can advocate for robust farm-to-school policies state-wide. Additionally, we will still welcome programs from across the United States and internationally.
Does my program have to work with middle school students?
While the Edible Schoolyard Berkeley, the Edible Schoolyard Project's demonstration and training site, operates at Martin Luther King, Jr. Middle School, we welcome training participants who work with students of all ages; pre-K-12 as well as college, university, and adult populations.
The content we develop and present at the Edible Schoolyard Summer Training is relevant to and adaptable for programs working across diverse populations and contexts – in student age, background, subject area, staffing, climate, and geography.
Does my program have to be based in a public school?
The Edible Schoolyard Summer Training is designed for programs working in a variety of institutions. In previous years, training participants have represented programs based in public, charter, and independent schools. Previous participants also include representatives from a rural food bank, an American Indian community health initiative, and an array of non-profit organizations.
We also welcome participants from community organizations collaborating with schools and summer meal sites on farm-to-school initiatives, as well as key district staff, farmers, Cooperative Extension, and supply chain partners.
Do I have to come as part of a team?
The Edible Schoolyard Summer Training accepts individual participants as well as teams of 2-5 people. Teams generally consist of educators, administrators, and/or parents. We prioritize accepting team applications over applications from individuals.
We welcome programs from across the United States as well as international programs. We prioritize groups of three to five participants and organizations that have sent a team before and want to train new staff. We strive to create programming that is relevant to and adaptable to any practitioner or institution.
Why are you requesting demographic information about our/my team?
The Edible Schoolyard Project is committed to building diversity and inclusion in the field of edible education. We believe that our movement is made stronger, more effective, and most relevant for our students and communities by the leadership of practitioners with a wide array of perspectives and experiences. Specifically, we are seeking to increase the number of youth and people of color attending our trainings and leading the field.
We strongly encourage applicants from a diversity of backgrounds, particularly from historically marginalized communities most impacted by the consequences of an unjust food system and underrepresented in the fields of education, health, and the environment. Teams who will contribute to the diversity of our training programs will be given preference during the review process.
What materials will I receive as a participant?
Before the training begins, you will receive a packet containing accommodation and restaurant recommendations, directions, and a detailed agenda. All participants in Edible Schoolyard Summer Training will receive a training binder, containing all the take-home materials and resources that will be referenced throughout the programming. All training materials will be published online.
Will we learn about school lunch reform?
School lunch reform is an integral part of edible education and will be discussed and addressed during the Edible Schoolyard Summer Training.
What if I have dietary restrictions or need special accommodations to participate?
Please let us know when you fill out the registration form so that we can do our best to make you comfortable.
What meals are provided?
The Edible Schoolyard Summer Training provides breakfast and lunch June 26th–29th.
Is lodging included in the tuition fee?
Participants must arrange and pay for their own lodging and travel. Suggestions will be provided in the welcome packet. Participants will receive their welcome packet in early June.
What is the payment schedule?
In order to secure your place at the Edible Schoolyard Summer Training, participants must pay in full ($650/person) by May 17th, 2019.
Do you offer scholarships?
For the 2019 Edible Schoolyard Summer Training, the Edible Schoolyard Project will offer full and partial tuition scholarships to enable participation from programs for whom tuition cost presents a hardship or barrier. Tuition support and waivers will be granted based on a program's demonstrated financial need and potential to benefit from Edible Schoolyard Summer Training participation.
If you would like to apply for scholarship funds, you will be able to do so as part of the application process.
Do you know of programs that offer funding to attend Edible Schoolyard Training?
In previous years, attendees have funded their tuition from sources as varied as Federal Title I funds, the Fund for Teachers Fellowship, and school PTAs. Often participants have sought out a local supporter of their program and asked that person to sponsor their attendance by paying for all or part of it.
What is the cancellation policy?
If you have paid the tuition but need to cancel your registration on or before May 21st, you will receive a full refund. If you cancel on or before June 7th, you will receive a 50% refund. If you cancel after June 7th, you will receive a 25% refund.
If you are accepted to attend and you have to cancel for any reason, you are welcome to apply again the following year, and we will make every effort to accept your application again.
How do I get Continuing Education Credits?
We are partnering with UC Davis to offer Continuing Education Credits for this summer's training. More information will be available in the welcome packet.