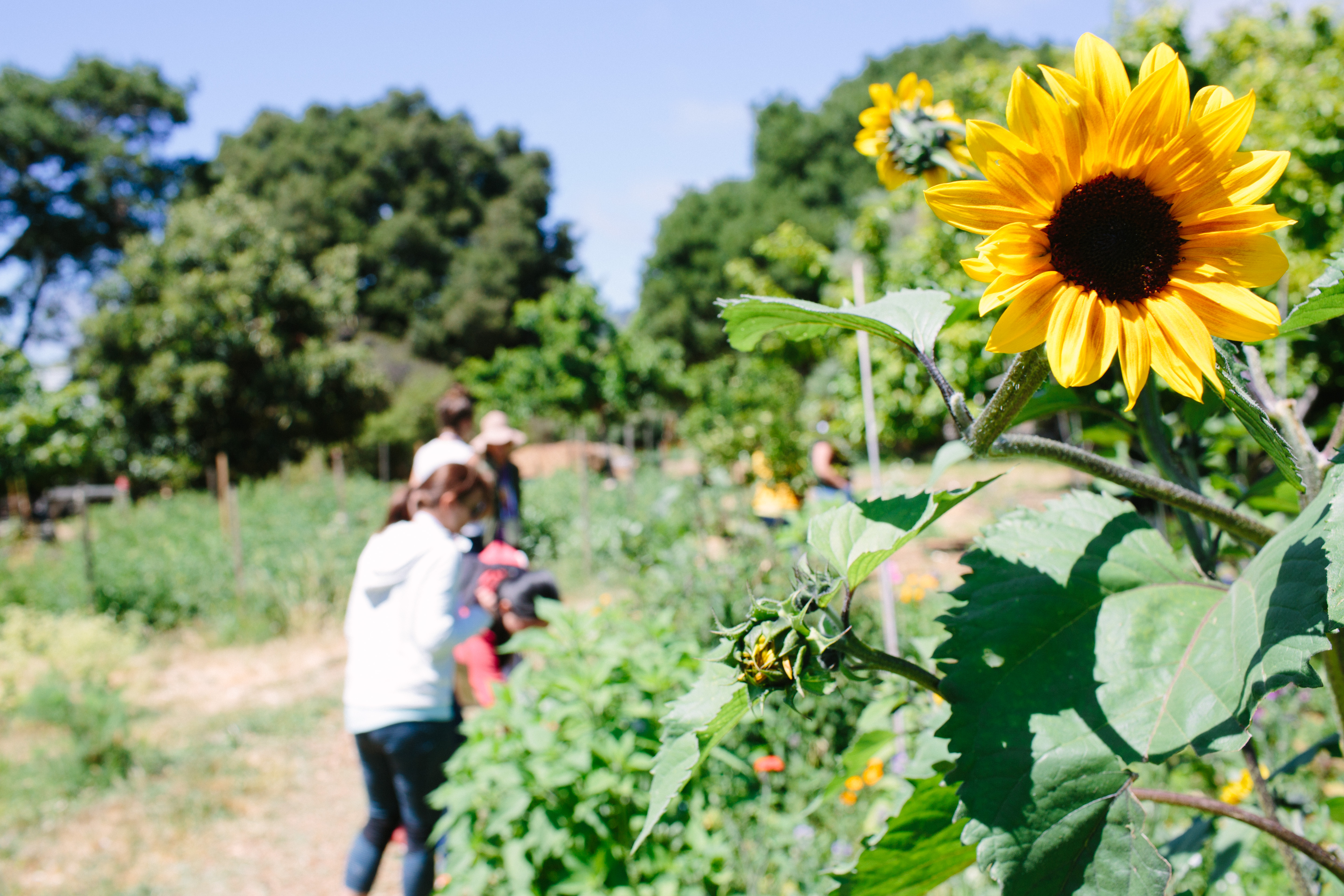 FREQUENTLY ASKED QUESTIONS ABOUT THE EDIBLE SCHOOLYARD SUMMER TRAINING
What is the Edible Schoolyard Summer Training?
The Edible Schoolyard Summer Training is a three-day immersive training experience for teachers, educators, and administrators working with youth and food.  The Summer Training includes workshops teaching technical gardening and cooking skills in a classroom setting, sessions sharing best practices in curriculum planning and school lunch reform, and discussions on important issues in edible education such as developing culturally relevant curriculum and avoiding food shaming. The training is an opportunity to connect with individuals from across the country and globe who are working to educate youth and build a healthier and more just food system. 
Join us to learn and share core principles and practical tools for engaging students in academics, social and emotional learning, and justice in the kitchen, garden, and lunchroom.
What will I learn? How will I learn?
Participants in the Edible Schoolyard Summer Training will engage with a wide variety of topics and issues related to teaching youth about food and school food culture. Sessions range from plant propagation 101 to applying design thinking to reenvision the cafeteria experience. If you are working in a school garden, school kitchen, school lunch program or work with youth and food in any capacity you will find the workshops and discussions relevant to your work. All sessions are designed to support both advanced practitioners and folks new to the field. 
We strive to teach adults using the same instructional strategies that we find most successful with youth. Sessions will be hands-on, participatory, and draw on your existing knowledge and experience. Participants will also have an opportunity to teach a skill or lead a discussion for their peers. We aim for a balance of facilitated co-learning that draws upon the expertise that participants bring and sharing frameworks and best practices that we have developed. 
What have past participants said about their experience at the Summer Training?
"It was a fantastic overall experience. The sessions were brilliantly diverse and I enjoyed the hands-on experience. I also enjoyed the amount of mingling that occured and the time that was allowed for networking. I really enjoyed the trainers and admired their diversity and how they presented. I loved how engaging all the activities were. I loved THE FOOD! I loved how each facilitator also shared their personality and stories in their trainings."
"[We learned] structure and systems for garden and kitchen lessons. [We got] garden content and we will be meeting as a team to determine which kitchen lessons to implement and perhaps adapt to the school culture and grade levels. [We] love the Edible Schoolyard content standards and philosophy."
"[One major takeaway was] that nourishment and deep organization allow people to feel safe and focused and it should often be my top priority with team collaboration."
"[One major takeaway was] the importance of designing experiences for students that promote their independence (e.g. knife skills in kitchen classroom) and the power of the garden, kitchen program to serve as a locus for developing and sustaining community among school families."
"[The sessions] were thoughtful and relevant, fast-paced and interesting and that the passion and professionalism of the staff was always in evidence." 
"[My favorite part was] hands-on engagement, connection, mind, body, and spirit to what we were doing. Diversity in topics and people and honor/respect given to culture." 
How many people attend the Summer Training?
Roughly one hundred participants attend the Summer Training. We gather for meals and networking events but will spend most of our time in smaller learning groups of 20 to 30. 
When is the Edible Schoolyard Summer Training?
The 2020 Edible Schoolyard Summer Training will be Wednesday, June 24th through Friday, June 26th. The program days will run from approximately 8am to 4:30pm with optional evening events. The exact schedule will be shared in the welcome packet following registration. 
How do you select which programs attend the summer training?
We recieve, on average, applications representing more than 500 potential participants. While we would like the opportunity to work with every applicant, we have developed a training program that works best for roughly one hundred people. Please understand that not all applicants will be inviting to attend. 
Following the March 1st application period closing, our staff will meet and carefully review each application and consider how the applying program demonstrates a clear vision & mission, serves their local community, and shows commitment to deversity, equity, and inclusion in their work. 
When will I hear about my application status?
We will announce acceptances on March 20th. We will notify all applicants about the status of their application and scholarship status via email. 
Where do participants come from?
We welcome programs from across the United States as well as international programs to attend our training programs. In previous years, participants have come from all over the United States as well as from Denmark, China, Canada, Puerto Rico, and Japan. 
 
Does my program have to work with middle school students?
We welcome training participants who work with students of all ages; including PreK-12, college, university, and adult populations.
The content we develop and present at the Edible Schoolyard Summer Training is relevant to and adaptable for programs working across diverse populations and contexts – in student age, background, subject area, staffing, climate, and geography.
Does my program have to be based in a public school?
The Edible Schoolyard Summer Training is designed for programs working in a variety of institutions. In previous years, training participants have represented programs based in public, charter, and independent schools. Previous participants also include representatives from a rural food bank, an American Indian community health initiative, and an array of non-profit organizations.
We also welcome participants from community organizations collaborating with schools and summer meal sites on farm-to-school initiatives, as well as key district staff, farmers, Cooperative Extension, and supply chain partners.
Can I attend as an individual or part of a team?
The Edible Schoolyard Summer Training accepts individual participants as well as teams of 2-5 people. Teams typically consist of a mix of educators, administrators, and other stakeholders from one program or site. 
Why are you requesting demographic information about team members?
The Edible Schoolyard Project is committed to supporting diversity and inclusion in the field of edible education. We believe that our movement is made stronger, more effective, and most relevant for our students and communities when lead by practitioners with a wide array of perspectives and lived experiences.
We strongly encourage applicants from a diversity of backgrounds, particularly from historically marginalized communities and those who are underrepresented in the fields of education, health, and the environment.
What materials will I receive?
Before the training begins, you will receive a packet containing accommodation and restaurant recommendations, directions, and a detailed agenda. All participants in the Edible Schoolyard Summer Training will receive a training packet containing all the resources used during programming. These materials include lesson plans, best practices documents, visual aids, recipes, and action planning templates. All training materials will be published online for participants to access following the training. 
What language is the Summer Training offered in? Can I attend if I am not fluent in English?
The Summer Training is primarily conducted in English.  Some workshops may include conversations in Spanish or other languages relevant to the content of the session. 
We strongly recommend that participants be conversational in English.  
Does the Edible Schoolyard Summer Training provide childcare or allow family to attend?
While the Edible Schoolyard does not provide childcare during the summer training, we do welcome participants with family care responsibilities to invite their partners and children onto our campus during the event. Please contact us at Training@EdibleSchoolyard.org with any questions you have. 
Does the Summer Training accommodate dietary restrictions or other access needs?
We can accommodate most dietary needs and access needs.  Please let us know of any dietary restrictions or access needs when you fill out the registration form so that we can work with you and plan to meet your needs. 
Are meals provided?
The Edible Schoolyard Summer Training provides a full breakfast and lunch on each day of programming. All of the provided meals are cooked with locally sourced, organic ingredients. 
Most dietary restrictions can be easily accomodated.  Please indicate any dietary restrictions or needs in your registration. 
Is lodging included in the tuition fee?
Lodging is not included in the tuition fee. Participants must arrange and pay for their own lodging and travel.  
When is payment due?
Participants must pay in full ($650/person) by the close of the registration period on April 17th, 2020.
Do you offer scholarships?
For the 2020 Summer Training, the Edible Schoolyard Project will offer full and partial tuition scholarships to support participation for programs for whom tuition presents a hardship or barrier. Scholardships will be granted based on demonstrated financial need. Scholarships only cover the tuition for the Summer Training. Scholarships do not cover any travel, accomodations, or other expenses. 
If you would like to apply for scholarship funds, you will be able to do so as part of the application process.
Scholarships for the 2020 Edible Schoolyard Summer Training have been made possible in part by a grant from the Leslie Family Foundation.
What is the cancellation policy?
If you have paid the tuition but need to cancel your registration on or before April 30th, you will receive a full refund. If you cancel on or before May 15th, you will receive a 75% refund.  If you cancel on or before May 29th, you will receive a 50% refund. If you cancel on or before June 15th, you will receive a 25% refund. Cancellations made after June 15th are not eligible for any refund. 
Regardless of reason for cancellation, you are welcome to apply again the following year, and we will make every effort to accept your application again.
Do you offer Continuing Education Credits?
We are partnering with UC Davis to offer Continuing Education Credits for this summer's training. Please note your interest in earning CEUs when you register. 
Does the Summer Training align to USDA National School Lunch Program professional standards?
Yes! There will be a handout available at the conclusion of the training that details the learning objectives, key areas, and training topics covered.