Edible Education 101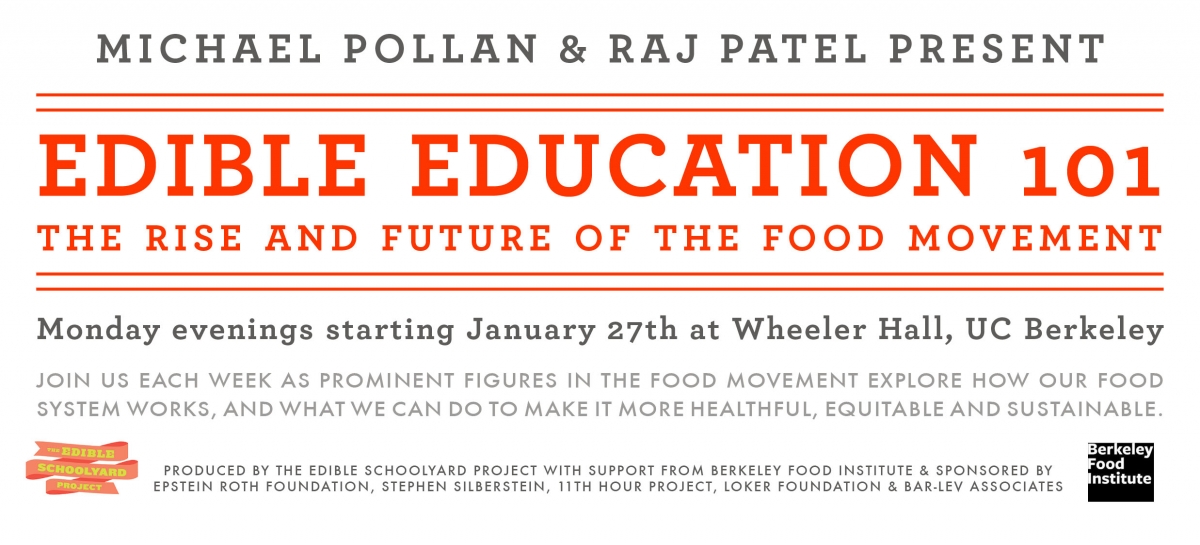 COURSE DETAILS
Day/Time: Mondays, 6:30pm - 8:30pm, Spring 2014
Location: Wheeler Hall, UC Berkeley
Enrollment: Open to UC Berkeley graduate and undergraduate students, and the general public (via ticketing and online video)
Instructors: Michael Pollan, Knight Professor of Journalism; Raj Patel, Author, Activist, and Filmmaker
Questions: Email info@edibleschoolyard.org or call 510-843-3811

COURSE DESCRIPTION
By the end of this century, there will be 10 billion people living on a planet scorched and drenched by climate change. Already, nearly a billion people are undernourished, while over a billion are overweight. The systems that have brought this about can appear opaque and complex. In this course, we will enlist the skills of economists, agronomists, activists, biologists, farmers, chefs, diplomats, workers, entrepreneurs, parents, poets, and citizens to explain both how food systems work, and how they might be changed.
Tracing the food system through the rise of industrial agriculture at home and abroad, the twelve week course will introduce students to some current and controversial ideas about the future of food, through conversations with some of the leaders of the food movement in Berkeley, the United States, and around the world.

TICKETING FOR THE PUBLIC
Tickets will be made available to the general public for free, or with a suggested donation, via Eventbrite on a first come, first served basis. Registration links will go live on the Tuesday morning before the following Monday's evening class (e.g. tickets for the first lecture on Monday, January 27 will become available for reservation on Tuesday, January 21 at 10:00am). You may reserve tickets by clicking the "Reserve tickets" link next to the title of each lecture.
See the list of upcoming EE101 lectures on Eventbrite.
RECEIVE REGISTRATION NOTIFICATIONS
Questions: Email info@edibleschoolyard.org or call 510-843-3811
SCHEDULE
PART I – CHALLENGES OF THE FOOD SYSTEM
PART II – MOVEMENTS IN THE FOOD SYSTEM
SOCIAL EATS
Social Eats convenes and educates Bay Area young professionals on the complexities of the global food system and local food shed. Through curated events, panel discussions and our online community, Social Eats cultivates thought leaders and advocates of the sustainable food movement. We are thrilled to have Edible Education 101 as our inaugural event series! Click here to learn more and sign up.
LECTURE READINGS
Lecture readings will be posted next to each lecture description one week prior to the lecture date.
LECTURE RECORDINGS AVAILABLE
Each lecture will be made available for free through the Edible Schoolyard Project's Vimeo and YouTube channels and on the Edible Schoolyard Network within one week of each lecture date. Recording links will also be posted next to each lecture description.
PAST EDIBLE EDUCATION 101 COURSES
COURSE HISTORY
Edible Education 101 was started in 2011 in conjunction with the 40th anniversary celebration of Chez Panisse Restaurant and Café in Berkeley, California. Alice Waters, founder of Chez Panisse, launched the course to bring edible education to the university through her nonprofit, the Edible Schoolyard Project.
SPONSORS
The Edible Schoolyard Project and UC Berkeley Food Institute, with support from Stephen Silberstein, the Epstein/Roth Foundation, 11th Hour Project, Loker Foundation, and Bar-Lev Associates.