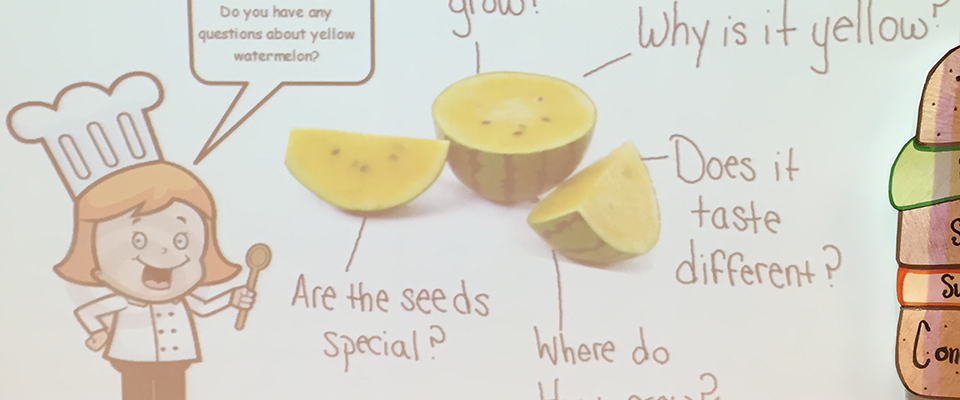 Farm to School in West New York
Along a small stretch of the Hudson River, just opposite the bank that hugs the bustle of Manhattan's west side, sits a small city called West New York, New Jersey. Situated within one square mile of concrete and brick, it is one of the most densely populated areas in the entire United States. Children who grow into adults here do not typically see vast, open spaces or food sprouting from the earth in their day-to-day. Despite these environmental confines, a committed team of educators and chefs are working to connect the city's public school students with fresh and local food.  
In 2010, the West New York School District implemented the USDA's Fresh Fruit and Vegetable Program in one of its ten schools. The program was part of an initiative organized by the wellness team in conjunction with the Alliance for a Healthier Generation. To kick off the effort, the school partnered with the New Jersey Farm to School Network for a celebration attended by the full student body. The event helped build staff support and student excitement. When the district's food service director, Sal Valenza, returned to check in a few weeks later, he found every bulletin board in the school plastered with images and information about fruits and vegetables. This enthusiasm lit a spark of potential and the team set their sights on growing the program across the district.
While the Fresh Fruit and Vegetable Program made no stipulation about where the produce is procured, Sal prioritized sourcing 100% of the goods from New Jersey. (The USDA now gives an extra stipend for locally sourced food.) The program also has no criteria for creating a complimentary educational component, but West New York's team recognized that creating one was essential to the program's success. From the classroom to the lunchroom, they approached building the district's Farm to School program with this essential philosophy: "At schools, we tend to do things for kids; we need to do things with them."
[video:https://youtu.be/0-MIP1beloQ width:640 height:480 align:center autoplay:0]
Enter Kim Gray, a professional chef of nearly twenty years, who was hired to create excitement and bring a higher level of professionalism to the district's cafeterias. Kim partnered with the food service staff to enhance offerings and elevate the perception of school meals. Together, they made the decision to allow students to select their own fruits and vegetables and offer the opportunity to take "unlimited" servings, fostering a sense of ownership over their plate. Many of the items served on the lunch line were also re-imagined and made healthier by using more fresh herbs and seasonings and less salt and fat.
The West New York team realized early on that, in order to create a meaningful change, messages sent in the lunchroom needed to be supported by an educational program. Sal reasoned that having a chef spend time in the classroom would help students understand that someone prepares school food for them.
As a result, Kim spends half her time in each of the district's schools, working alongside many teachers and administrators that have become advocates for the program. She collaborates with teachers to develop lessons that are connected to their curriculum. Topics span science, math, agriculture, writing, cooking, digestion, exploring the senses, and reading recipes. For example, one of lesson uses the proportional spikes of Romanesco cauliflower as an example of mathematical phenomena. 
Kim also regularly conducts taste tests with students to introduce them to new produce in an engaging and accessible way. She oftentimes prepares the same vegetable multiple ways during taste tests, allowing the students to experience their versatility and her to conduct field research. During one lesson, kids were emphatically not fans of roasted pumpkin but "went wild" over pumpkin soup. These tastings have increased students' consumption of foods when they appear in school lunch. Now, when Kim walks through the halls, the students not only know her and say hello but enthusiastically make requests for the menu.
Lunchroom changes and classroom lessons, as well as occasional farm visits and opportunities to prepare dishes in the school kitchen, have benefits that extend far beyond expanded palates and nutritional knowledge. During her time as a farm to school educator, Kim has seen dramatic shifts in the character of her classes. Students open up and approach all subjects with increased confidence. It's simple, really, she says: "Food brings us together."