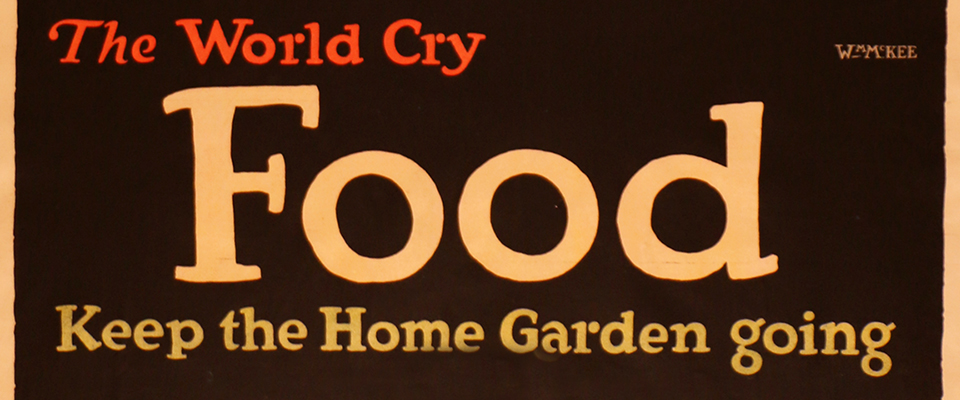 This year, an Academic Language Development (ALD) class at Martin Luther King, Jr. Middle School had the opportunity to study World War I  from a food-centric perspective. Utilizing a comprehensive online exhibit—curated by the National World War I Museum and Memorial in Kansas City, Missouri—fifteen 7th- and 8th-grade students participated in a lesson series focused on food-related aspects of the war.
In the classroom, students watched a video created by their teacher called "Why Study World War One", and used it as a resource to practice some important skills necessary for academic writing. Students learned how to take notes based on a video, and how to communicate, in a formal writing assignment, the point of view of the author by citing evidence. To give students an overview of this period they also reviewed 4 articles from the NEWSELA website dealing with WWI.
After establishing a basic understanding of the events leading up to the war students shifted their focus to food and its role during the war years. They explored the online exhibit from the National World War I Museum, "War Fare", which presents text, video, and photos specific to the role of food during the war, and helped students practice their academic writing skills using a note taking matrix to support their explorations. After looking at the website, the students practiced using a primary resource by examining a collection of posters about food and food policy on the home-front leading up to and during World War One.
The next series of lessons focussed on soldiers' food. They read an excerpt from Rachel Duffet's book, "The Stomach for Fighting", watched YouTube videos on the topic, and then read letters that U.S. soldiers had written from the battlefields of Europe referencing their meals. Finally, students wrote a comprehensive multi-paragraph essay citing evidence from all these resources, to make some generalizations about soldiers' food. Having completed their initial research and practiced academic writing skills, it was time to move into the kitchen classroom for a hands-on, culinary history exploration!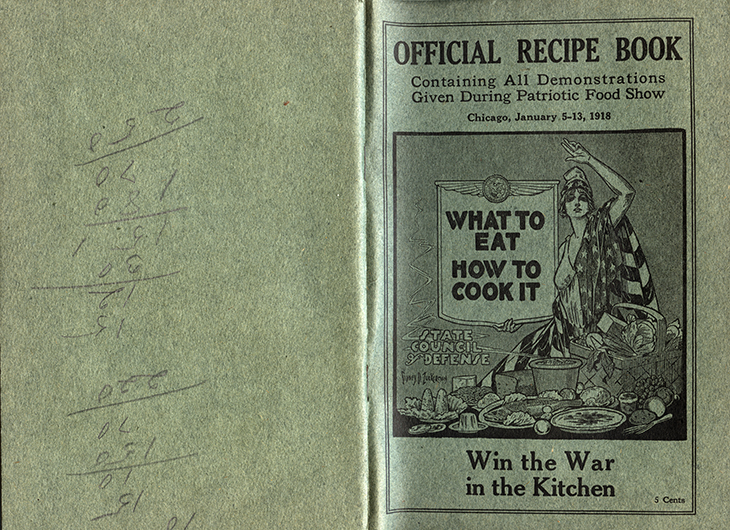 Lesson One: Food on the Homefront
Students studied the effects the war had on food and diet in the U.S. by examining the Food Administration (FA), created by President Woodrow Wilson, and headed by Herbert Hoover. The FA was tasked with engaging the nation in a massive rationing effort. Meatless Mondays and Wheatless Wednesdays were introduced, and households nationwide were encouraged to demonstrate patriotism through conservation of wheat, meat, fats, sugar, and milk. Following recipes from the FA Cookbook, students made White Bean Stew and Cornbread, discussed what it means to ration and conserve, and related those concepts to their own lives.
Lesson Two: Food on the Front Lines
The next lesson took us to the trenches, where we examined a soldier's diet from two perspectives: the type of meal soldiers with access to a field kitchen could expect to eat and pre-packaged Meals Ready to Eat (MRE's) for soldiers battling from trenches without the benefit of a cooked meal.
Employing recipes from a Field Kitchen cookbook students prepared Baked Cauliflower with Cheese Sauce and investigated and sampled U.S. MRE's, observing the eclectic selection of components to each MRE as well as the staggering amount of packaging and waste generated by a single MRE. Noting that MRE's were designed to offer soldiers familiar foods and flavors, students used A Taste of Home worksheet to design their own MRE's.
Lesson Three: Soldiers on Leave
In a departure from the front lines the third week we recreated the restorative and morale boosting effect of the estaminet, the informal "cafes" that sprung up, offering humble food, spirits and entertainment for soldiers on leave.
In lieu of the traditional wine, students enjoyed a sparkling fresh fruit drink and made a vegetable soup with croutons and pistou. Soldiers returning home brought with them a taste for simple soups and breads, most likely traceable to their positive associations of those humble foods and the respite from combat provided by the estaminets.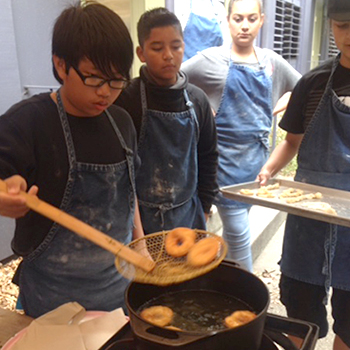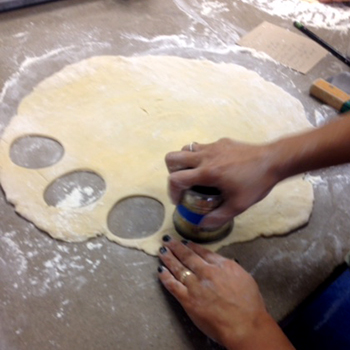 Lesson Four: A Culinary Legacy of WWI
Ending with a look at the culinary legacy of the war we experienced the phenomenal Salvation Army Donut. Initiated by a young Salvation Army ensign who wanted to offer a simple comfort to the troops, this tradition endures today as the Salvation Army brings emergency relief and aid to citizens victimized by disasters ranging from fires and floods to earthquakes and tornados.
The creation of this lesson series was an inventive collaboration between The WWI Museum of Kansas City, the creative teaching methods of an enterprising classroom teacher and the hands-on, experiential learning opportunities of a kitchen classroom. Besides offering multiple modes of acquiring and practicing academic language skills, the series allowed students to replicate some of the real-life experiences of soldiers and reflect on the powerful role food played in the lives of both soldiers and civilians during WWI.