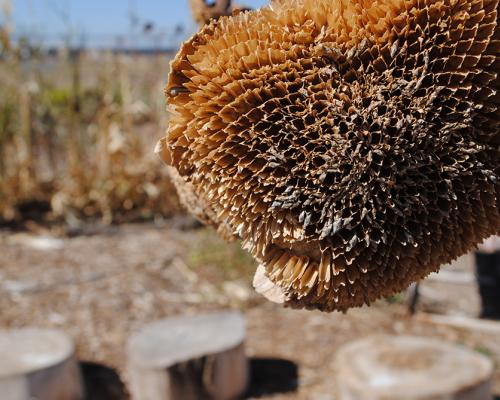 Learning Life Cycles in the School Garden
FoodCorps service members have the precious chance to share magical first experiences with kids in the school garden: to introduce them to seasonal change, to teach them about life cycles, and to witness their students make connections between the living and non-living components of our world. Today we have the opportunity to explore our maturing garden space with these themes in mind.
We stroll and observe the changing nature of our garden. The Sugar Baby pumpkins are wild and ready to harvest. The broccoli sprout is peeking up from below the soil, anxious to start harvesting the warmth of the sun. The sunflowers, although now without their vibrant petals and deep green leaves, are ready to share their seed.
"Oh no! Our sunflowers…what happened to them? They are so ugly now!" a garden club student shrieks as she finds our Mammoth sunflower bowing to the sun, heavyfrom the weight of its seeds. We discuss the journey of the sunflower patch and the impressiveness of each individual's steady growth. A garden club leader reminds the other student of when we planted the patch, and the two continue to discuss the progression of the mammoth flower from sprout to seed. 
Soon enough the students find the jackpot: hundreds of striped seeds, ready to explore the world with the help of birds, wind, and human hands. 
Saving seed has been a sacred tradition in New Mexico for ages. Although the ritual of passing on community knowledge through the sharing of seed is not unique to this place, there are not many regions on earth where the act of saving and sharing seed is as important. We save and celebrate seeds that have adapted to the extreme climactic changes that are normal to the rugged terrain of our high desert ecosystem. Our state is home to some of the longest inhabited spaces in the country. Without a deep connection to the knowledge base needed to select, harvest, and save strong seed, our long history of resilient, nourished communities would not exist. 
Continue reading this post on the Annie's Homegrown blog.