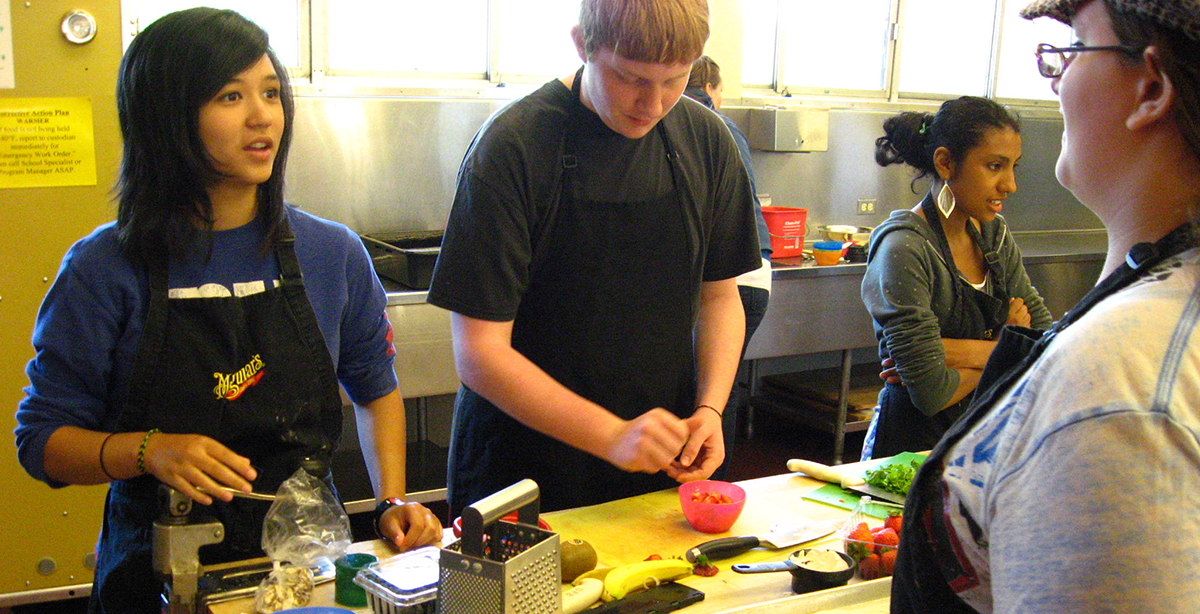 Planting the Seeds of Cuisine with Food Education
After nearly ten years of teaching primarily at-risk youth in public urban high schools, a series of "ah-ha moments" compelled me to abandon my tenured position as a language arts teacher. At the heart of my realization was that we're missing the mark in educating our youth about the most vital of acts - nourishing themselves.
In response to this awareness, I shifted my focus to creating The Curriculum of Cuisine, a program blending culinary education and standards-based academic rigor. The Curriculum of Cuisine, taught in tandem by a state licensed teacher and a culinary professional, weaves the instruction of essential culinary skills into a core academic subject that is already required for graduation.
Last summer at Madison High School in Portland, Oregon, Garden Coordinator Susan Weincke and I had the good fortune to co-teach a pilot of this model - The Seeds of Cuisine. Our course was a five-week summer program rooted in experiential learning. Integrating language arts and science into cooking and gardening, the course supported students in meeting their academic goals by offering credit recovery, practical skills, and community engagement. The course culminated in a student-led "Farmers Market." This market featured produce from Madison High School's garden that was cultivated by students during the course, as well as scratch foods prepared and packaged for sale by students.
Intended as a way to engage students who had struggled academically during the school year, The Seeds of Cuisine was met with remarkable success. With an average GPA of 1.86, 83% of participating students had failed one or more core classes during the school year. However, regular hands-on learning opportunities spring-boarded student engagement. Culinary-focused writing assignments were used to earn credit by proficiency in language arts. All participating students completed a formal lab report and field guide project, allowing many to recover credit in biology. In addition to academic gains, all students in The Seeds of Cuisine acquired fundamental culinary and gardening skills that can be used over a lifetime. These are steps in creating food justice.
The Curriculum of Cuisine can facilitate this same level of engaged and meaningful learning during the traditional school year. Please visit thecurriculumofcuisine.org for more information.
This post was originally published by FoodDay.org and Jamie Oliver's Food Revolution. Learn more about their campaign for food education in every school.