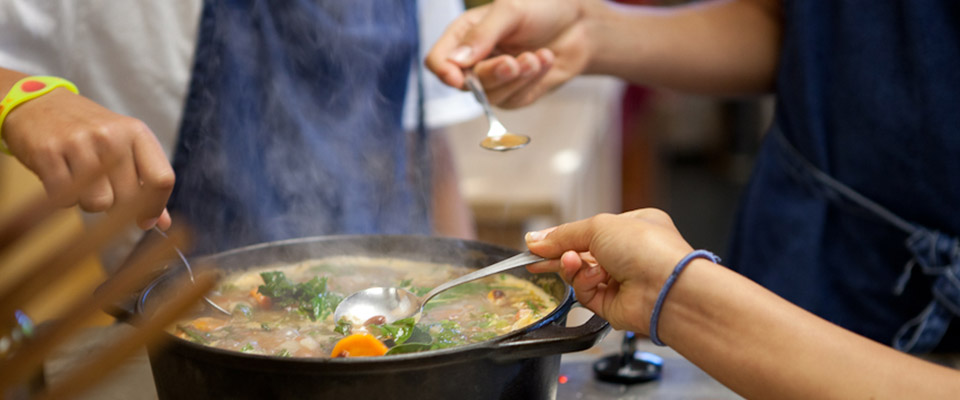 Cultivating a Fresh Perspective
This summer, we welcomed a cohort from Slow Food USA's National School Garden Program as Edible Schoolyard Academy participants. This post is the fifth in a series sharing the group's perspectives on their experience at the Academy training as well as each Slow Food chapter's unique approach to connecting students with good, clean, and fair food. 
Kids love to cook. They want to learn, to get messy, to use a knife, and eat! They love to share their own experiences – to tell you about their grandmother's chicken pot pie or when they found a huge bug inside a tomato in their garden. And, they want to do it all at once!
The best part of growing and preparing food with kids isn't only introducing them to where their food comes from, tasting it or talking about it. It's watching their perspectives change. They look at food differently.
I knew that gardening and cooking curriculum was out there before I started working as the garden coordinator at St. Francis School, but seeing it first hand, done so well, at the Edible Schoolyard Summer Academy was very encouraging. I knew I was on the right path.
I started cooking with kids by accident.  I was filling in for a teacher for four months and part of their curriculum was to cook the snack they were going to eat.  I had twelve 4- and 5-year-olds at a table. It was brilliant: they cut, they told me stories, and we ate together. 
When it was time for the teacher to return, I missed cooking with those kids, so I approached my daughter's teacher and once a month I was cooking from scratch, in season and talking about where our food comes from. We planted a little garden.  
At the school she attended, the students said a sweet little prayer before eating. It was something along the lines of "thank you for the birds, and bees, the farmers, and trees.."  The spirit was that they noticed and appreciated the world around them. They understood that everything played an important role in producing the food we were about to eat.
Now the Slow Food movement is happening in my own home and in my job. At St. Francis, I love connecting what students learn in the garden with their classroom curriculum. Our program is diverse. We grow many kinds of lessons, and we cook from many cultures.
Every year, we watch chickens hatch, and this year we incubated peafowl, ducks, and turkeys.  All of the eggs we use are from local farmers. We raise Bourbon Red Turkeys, a heritage breed that is listed on Slow Food's Ark of Taste. Introducing students to the Ark of Taste and the concept of biodiversity is important to me. They provide great pathways to talk about our biological, cultural, and culinary heritage. 
I am so grateful that I am part of this movement.  I live in Louisville, Kentucky. It's only appropriate that I end with a quote from my favorite local author, Wendell Berry: "The care of the Earth is our most ancient and most worthy, and after all our most pleasing responsibility. To cherish what remains of it and to foster its renewal is our only hope."