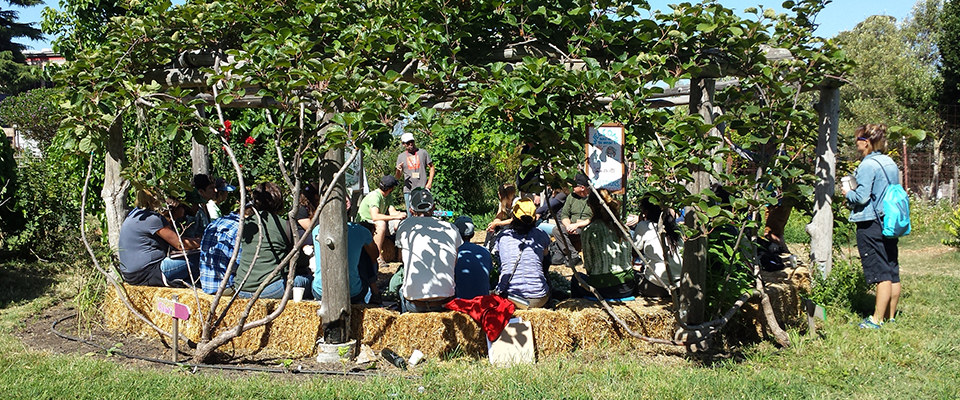 This summer, we welcomed a cohort from Slow Food USA's National School Garden Program as Edible Schoolyard Academy participants. This post is the fourth in a series sharing the group's perspectives on their experience at the Academy training as well as each Slow Food chapter's unique approach to connecting students with good, clean, and fair food. 
"Include your family and friends, and especially children. Sharing the hands-on experience of gardening and cooking teaches children the value and pleasures of good food" - Alice Waters
It took me almost a month to process my experience at the Edible Schoolyard Academy. The training was a whirlwind of information and ideas, in combination with the opportunity to meet others from around the country with similar goals and struggles. The culture surrounding the Edible Schoolyard Berkeley is so supportive and kind, it shook me to my core. Nothing could have prepared me for what a magical place it is.
I am a gardener first, an educator second, and a cook…almost never. The opportunity to learn more about the things I am already familiar with was fun. The opportunity to learn about the things I know nothing about was priceless. Over the course of the Academy, my cohort transitioned from a workshop sessions in Program Administration to the Garden Classroom, and finally into the Kitchen Classroom. Each day was incredible and gave me new perspectives on how the Edible Schoolyard Berkeley's various systems function together to provide education and empowerment for students at King Middle School. The Edible Schoolyard program is not only a model of diverse and welcoming classroom settings but a model for teaching in general. Personally, I was very impressed by the professionalism of Jason Uribe, one of the garden teachers, and Nick Lee, a chef teacher. I will be doing my best to not only mimic their lessons but the manner in which they present them. Their examples have already made me a better educator.
Attending the Academy as a representative of Slow Food USA was very interesting for me. Although the other participants all supported a Good, Clean, Fair life, most were not familiar with what Slow Food was or what we do. It was fun to be able to share what a great organization it is, and what it stands for, with them. Many of my fellow participants were also very surprised to learn that Slow Food members are volunteers. We do our work for school gardens not because we are paid, but because we feel so strongly that it needs to be done. My background as a veteran lends me a unique perspective in that regard. For me, it is about continuing the service I started when I enlisted. Though I transitioned to civilian life years ago, my desire to serve and help others is still strong, and Slow Food is a way for me to continue making my community a better place.
From my conversations at the Academy, there doesn't seem to be an existing connection between School Gardens, Farm to School, and Veteran to Farmer programs, but I see great opportunity for that gap to close. I can't imagine a greater service than feeding children and teaching them about healthy food options. Although my focus in the Slow Food Orange County chapter is school gardens, I will be keeping a lookout for opportunities to bring more veterans into this fulfilling work.  
I am so grateful for the chance to attend the Edible Schoolyard Academy and want to thank Andy Nowak and Lauren Howe of Slow Food USA and the rest of my Slow Food School Garden team. It is so inspiring to be a part of such an amazing community!