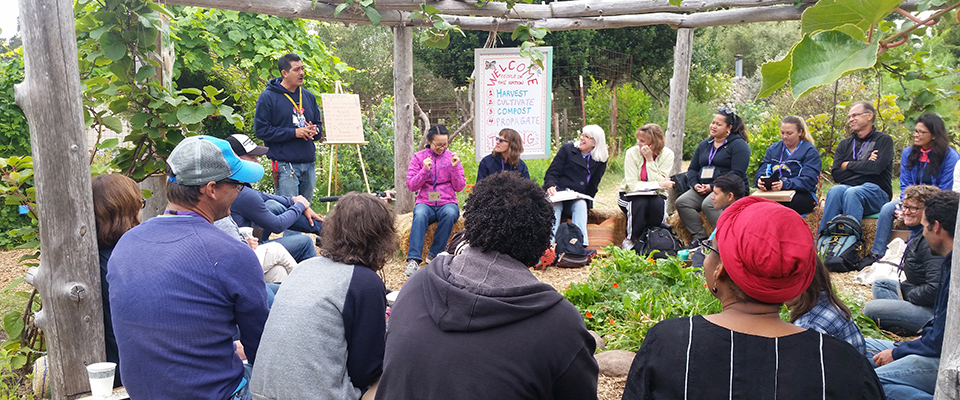 This summer, we welcomed a cohort from Slow Food USA's National School Garden Program as Edible Schoolyard Academy participants. This post is the third in a series sharing the group's perspectives on their experience at the Academy training as well as each Slow Food chapter's unique approach to connecting students with good, clean, and fair food. 

After soaking up the sights, sounds, and experiential learning at the Edible Schoolyard Academy, the elements of what I gained germinated as I worked the soil in my own school's garden.
The light, water, and the wind create a perfect environment in which the soil produces plants; it is a natural and continuous process.
All of these elements work in unison to create balance in a plant's life. This is how the environment felt inside and outside the walls of the Academy experience: many individuals coming together with a wide range of expertise to create a climate of cultivating school gardens across the country and across the world. The Edible Schoolyard Academy provides the perfect environment for growth as garden leaders, a space where we can work in unison to empower children to make healthy food choices.
As a teacher, I see a clear place for edible education to complement alternative instructional methods, such as project-based-learning. Each year, teachers are tasked with navigating rounds of new testing and implementing techniques like differential learning and understanding by design. Project-based learning, like edible education, accomplishes this all in one package. By engaging students in experiential activities, it enables learners with different abilities and focuses on understanding. The typical student's experience consists of pencil and paper, handouts and worksheets, tests, and more tests. Edible education places every student in real world situations, with the added benefit of keeping their minds and bodies healthy.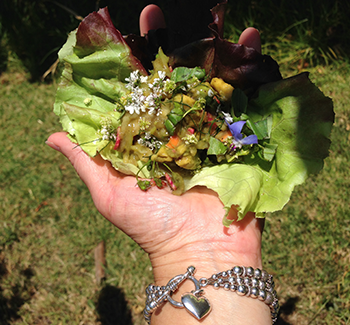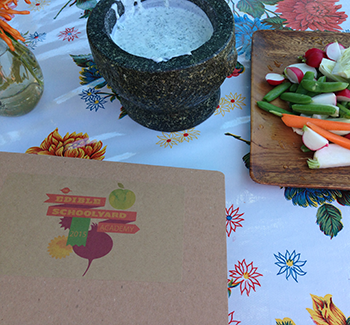 More and more educators are employing creative instruction methods as an alternative to "teaching to the test." What we have known all along is that students learn by doing. In fact, John Dewey defined projet-based learning in the late nineteenth century by writing, "Progressive Education is essentially a view of education that emphasizes the need to learn by doing." Dewey believed that human beings learn through a hands-on approach. Today, educators are searching for exploratory activities to fuel their instruction. We must design opportunities for all students, not just those who do well on written tests, to be successful. The time is ripe for plant-based instruction and edible education because our current educational system is hungry for experiential learning activities and project-based curriculums.
Whether you are a teacher, school garden educator, administrator, parent, or food service director, this is the time to adapt edible education to fit the needs of your school or district and present the model to others in your community. Make the case for linking plant-based instruction with Next Generation Science Standards. Align kitchen-based learning with school wellness efforts or history lessons connected to ancient cultures. Working in unison, we can provide solutions for educational reforms, exceed student wellness goals, and allow students the power to make informed decisions about the foods they consume.
During the course of the Academy, I was truly inspired by the many folks who have walked down the same garden path – writing grants, raising funds, building gardens, planting seeds, preparing the soil, harvesting, teaching, and assessing. I am more hopeful than ever that school gardens will continue to gain strength, across the nation and around the world. As a teacher who is curriculum driven, I am confident that plant-based instruction and edible education will be a successful school model, addressing not only state standards but also the wellness and readiness to learn of all students.