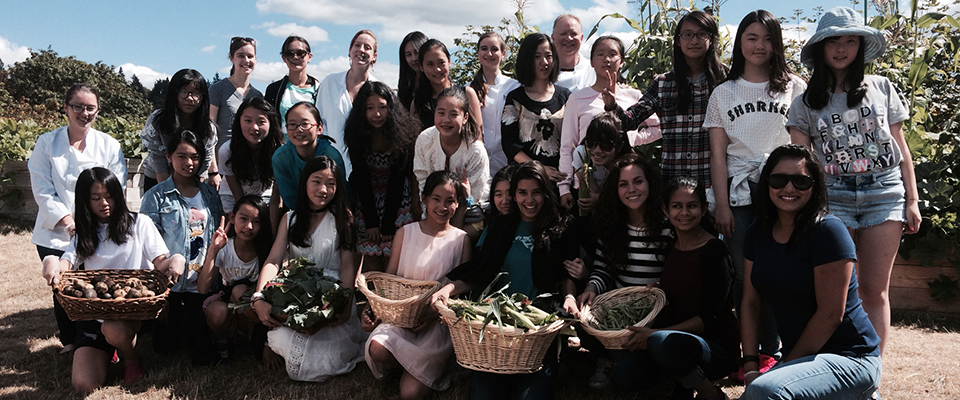 This summer, we welcomed a cohort from Slow Food USA's National School Garden Program as Edible Schoolyard Academy participants. This post is the second in a series sharing the group's perspectives on their experience at the Academy training as well as each Slow Food chapter's unique approach to connecting students with good, clean, and fair food. 

It was a parent who delivered a copy of the Edible Schoolyard to Forest Ridge School of the Sacred Heart in the spring of 2008. Their hope was that it would find its way to me, the school's executive chef.
I was hired in 2004 to introduce whole foods and wellness through food to the historic all-girls school, serving the fifth through twelfth grades, located in Bellevue, Washington. Four years later, upon receiving the book, this parent's dream became my staff's mission: to introduce school gardens and edible landscapes to the school's campus.
We set out to involve students in all phases of campus food production. This includes planning crops; planting, growing, and harvesting produce; and preparing and serving meals at the school's cafeteria. 
Alice Waters' Edible Schoolyard was just the inspiration needed. In less than two years, we harvested blackberries to serve in the cafeteria and celebrated Earth Day by breaking ground on our school garden our school garden with the head of school, Mark Pierotti. 
In the summer of 2015, I was selected to attend the Edible Schoolyard Academy as a Slow Food USA school garden leader. Inspiring, fulfilling, life-changing, and validating are a few of the words I use to describe this week-long event. The lessons learned and the passionate staff and attendees I met at the training fueled my fire to make a change and impact our youth by combining gardening, cooking, and education.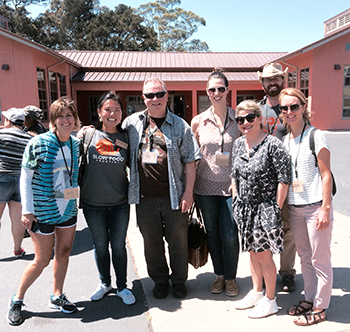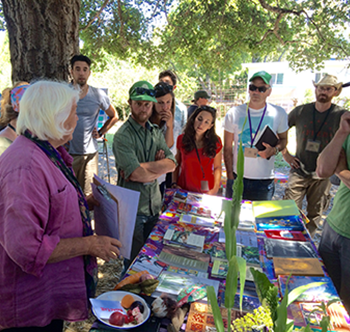 I already applied many of the tools and skills I learned during Forest Ridge's 4-week summer English immersion program for our international residence students. Their faces were full of joy as they pulled up potatoes, cracked off corn from the stalk, twisted beans from the vine, and snipped kale from the stem. 
After this harvest experience, I drove a busload of students, teachers, and assistants to a nearby urban farm that is supported by Farmer Frog, a local nonprofit organization that builds and maintains school gardens and community gardens. The students spent time working in the field alongside Farmer Imbuto before gathering to discuss hunger around the world.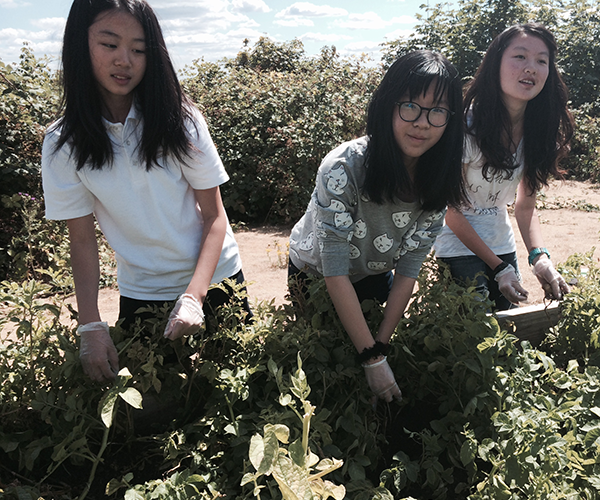 We returned to school and my staff prepared a meal in using the many bounties of the day's harvest. In the school kitchen. Farmer Imbuto joined our group at dinner to discuss unique styles of gardening across different cultures.
At the end of this beautiful and educational day, I felt very satisfied and inspired by the opportunity to connect young students from countries across Asia and North America with food through the lenses of our school's garden, a local urban farm and nonprofit, an African farmer, Slow Food USA, the Edible Schoolyard Academy, and Alice Waters.
The 2015-16 school year is underway and students are busy learning new subjects, meeting new friends and, more than ever, gaining hands-on educational experiences as they learn about where food comes from and how to prepare it. My time at the Edible Schoolyard Academy reinforced the power of food and education. I hope our work at Forest Ridge also influences other private and public schools across the nation and around the world. I believe we live at a momentous time of rediscovery in regard to food, culture, education, and wellness! I feel so blessed to have the ability to support our future generations' expanded view of food.