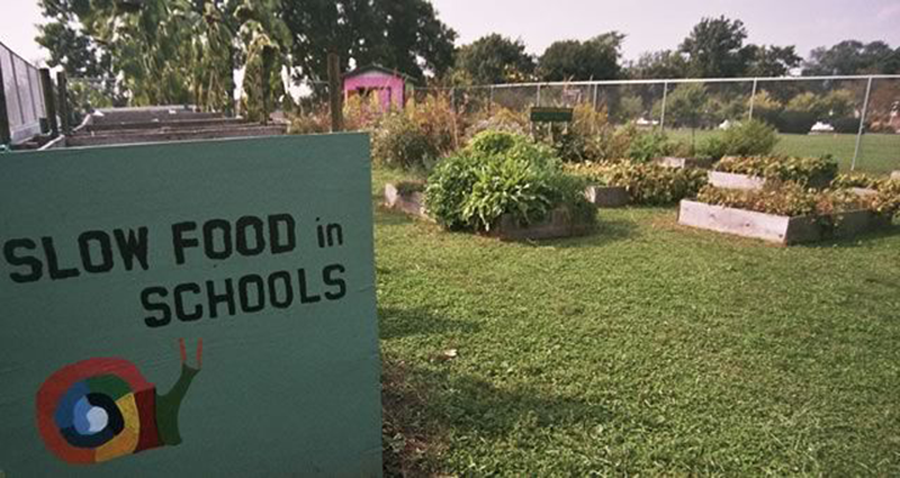 Build, Grow, Learn: Slow Food USA's School Garden Guide
Last fall, Slow Food USA released a comprehensive School Garden Guide. The manual offers an adaptable roadmap for developing a school garden program - from designing the garden, to developing curriculum and raising funds. I spoke to Andrew Nowak, who helped build Slow Food Denver's Seed to Table Alliance and currently serves as the program manager for Slow Food USA's School Garden Program, about the guide and the growth of Slow Food school gardens across the country. An edited and condensed version of our conversation is below.
What was the genesis of the school garden guide? Who came together to write it?
Over the past couple years, I've been having conversations with Slow Food USA in my role as a school garden leader at Slow Food Denver. I felt that there was a lot of untapped knowledge at the chapter level and I suggested that we try to build a garden program around chapter-to-chapter support - more of a peer-to-peer model than a top-down institutional model for Slow Food gardens. I asked, is there way that we could pull together the knowledge and the resources of the chapters to support each other?  
The manual was the first step, a way of bringing together some of the resources from across Slow Food chapters under one cover. I reached out to the Slow Food governors, the leadership in different regions of the country, and asked them to nominate Slow Food chapters that were running strong garden programs. From there, I came up with a list of about a dozen chapters and reached out their garden leaders. I invited them to come to Denver in February of 2013 for a three-day workshop with a local facilitation team. A lot of us had never met before we came together to select topics and resources, and discuss "How are we going to write this thing?" We put together the skeletal structure of the manual and then everybody started to volunteer to step up and write the different parts.

Can you share a little about the different chapters and their garden programs? Were there themes or commonalities that emerged across the programs? What were the highlights?
One of the highlights for me was how different everybody is in their approach to school gardens. We are all working under the theme of school gardens but there are a lot of different approaches to it, based upon the strength of the chapter and the people in the chapter.
For example, in Denver, [Seed-to-Table Education Director] Gigia Kolouch is a strong cooking teacher so we do a lot of cooking. I'm more of a program guy, so I designed a lot of programs to go with the gardens, like our youth farmers market and the garden cafeteria.  
Slow Food Miami is all about funding. They have a fundraising model that I'd never even tried before. It's such a party town that they can put on fundraisers left and right and raise money for the gardens. But they don't do much about programming so after they saw our commitment to programming and were inspired to do some more.
Slow Food East End, in Long Island, New York, does a lot of greenhouses and does a really nice job of building communities around their gardens.
Slow Food New York City - being in such a huge urban area - does a great job of connecting with restaurants and chefs and getting them involved.
Slow Food Seattle is all about literacy. Their chapter leader is a children's book publisher. He's made great connections with the local library and they are really interested in literacy out of the gardens.
Slow Food Chicago is mainly driven by one woman. She's a retired science teacher and she's got a lot of science curriculum in her school garden program.
Slow Food North Carolina, in Charlotte, has done a great job hooking up with the Meals On Wheels program called Friendship Gardens. It's a collaboration between community gardens and school gardens that support the Meals On Wheel program.
How did these different approaches shape the guide? 
I didn't want the manual to be a just a "how-to." There are excellent how-tos out there and I didn't want to write another one. We wanted to tell stories that show the range and breadth of Slow Food Chapters. We know when others are reading this, they're going to identify with certain parts. We wanted to capture as many useful stories as possible, but we also wanted to detail the flavor of a Slow Food school garden. 
If we can start capturing that, we're going to see a lot more interesting stories coming out of it. We're not going to be a homogenous model but I think that's exciting because it allows us to see how our gardens can enter different communities and environments. 
The Slow Food USA's School Garden Guide is available for free download. 
All images: Slow Food USA