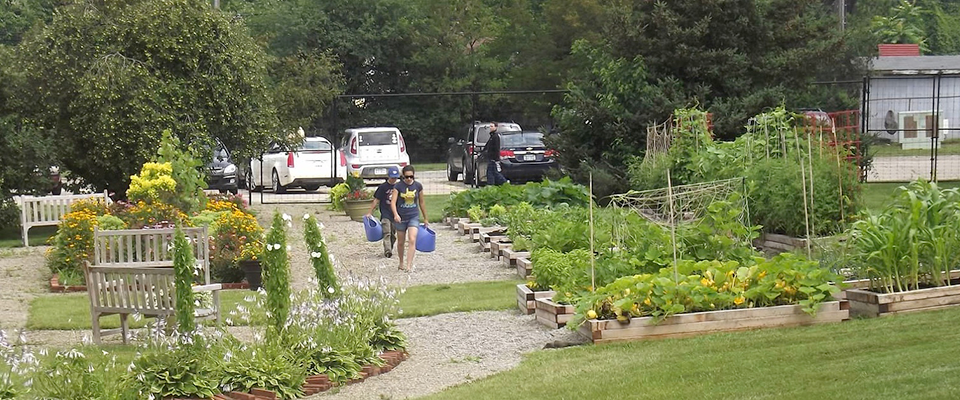 School's out. Garden's in. Now what?
Michigan weather challenges the community to sync the growing season with the school year. At the Waterford School District's Edible Schoolyard, the off-campus destination sees the advent of Planting Day after the last average frost date: around Memorial Day. While classrooms are wrapping up their school year, engaging in year-end activities, and preparing for final exams, the Farm to School Implementation Committee is planning ways to engage students throughout the summer months.
The first rule of thumb in the mitten state? Begin when the forsythia bloom. Not only are soil temperatures ready to till, winter blues are eagerly turned over to summertime planning. Girl Scout troops are organizing badge activities. National Honor Societies are inducting new members ready to plan their community service participation. Generations of family members arrive at year-end school performances and award ceremonies with aspirations of spending time together over the summer break. Using social media and word of mouth, the dedicated team employs grassroots efforts to instill project awareness.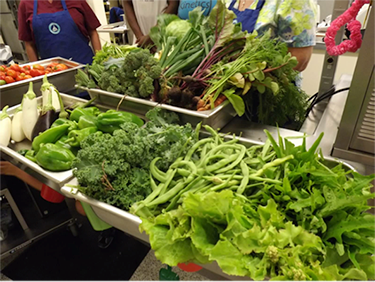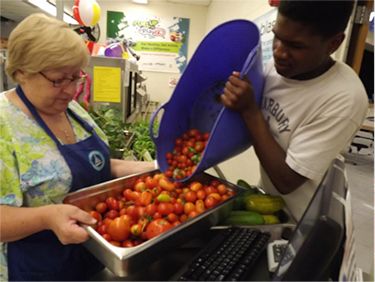 Located on the same grounds as the district's Edible Schoolyard, the USDA Oakland County Free Summer Food Program serves more than 250 free meals daily to children, ages 18 and under, during the summer months. Offering the ideal foundation to complete the circle of community service, the Waterford Edible Schoolyard's weekly harvest supplements their kitchen with fresh produce – providing opportunities to reach and engage children and families on a broader scale.
Bridging the kitchen to the garden, weekly events in the cafeteria draw attention to nutrition education and seek to garner involvement in the Edible Schoolyard. Monday's "Ready, Set, Grow" program brings fun games and activities onto the garden grounds. On Tuesday's Garden Day, the garden manager leads the charge; Aroma-filled herbs and crisp, ripe vegetables are picked and plucked for hand-delivery directly to the kitchen by volunteers. Garden deliveries are weighed and displayed in the service line and Two-Bite Taste Tests of in-season crops are offered. Throughout the summer months, Waterford enjoys appearances by the WSD Nutrition Mascot "Diggin" and joins the MSU Extension Officer in "Read it and Eat it" sessions, a blanket-bound read-aloud spread among the vegetable beds.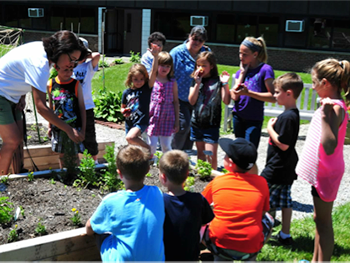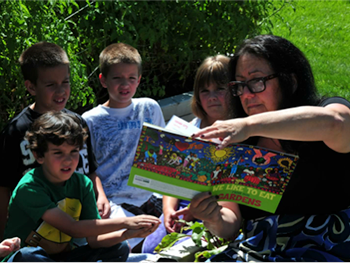 In southern climates with longer growing seasons, having a tight, well-planned volunteer schedule is imperative. But up north, we find ourselves capitalizing on the ebb and flow of lazy summer days. Our Edible Schoolyard draws artists in search of a muse, uncovers fitness trainers who choose to work out alongside nature's bounty, and inspires grandparents ready to share heritage recipes from naturally grown ingredients. And when they come, they never come alone. Attracting friends, troops, and crowds, we learn from each other. After all, this is Michigan – always ready to lend a hand.