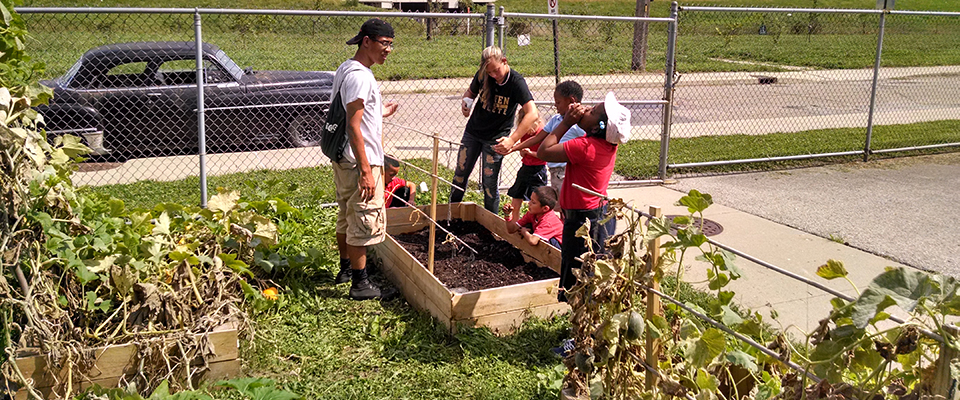 Closing the Generation Gap
Justin: "It was great to be able to give back to the community; doing so gave me a great sense of pride. The garden is helping to fill a gap between our generation and a younger generation. We came together with elementary students to plant, maintain, and harvest food that helped our local community."
Justin is a college student in Ivy Tech's Associate Accelerated Program and an avid member of our garden project with Indianapolis Public School #87. Like many others in his generation of young adults, he grew up disconnected from a local, sustainable food system. Teaching the values and techniques of local agriculture to Justin's generation is just as vital as teaching today's youngest generation of students. 
Part of our unique mission focuses on the fact that many of our college-age students come from very similar socio-economic backgrounds as IPS #87's elementary students.  By collectively growing food for the community, we are helping to close the generation gap in knowledge about the importance and benefits of the slow food movement.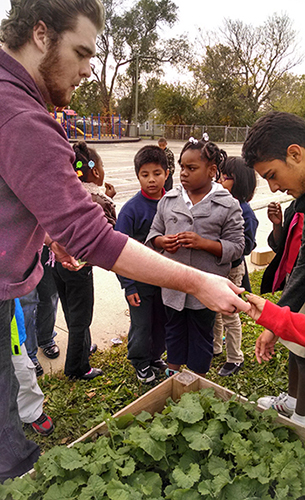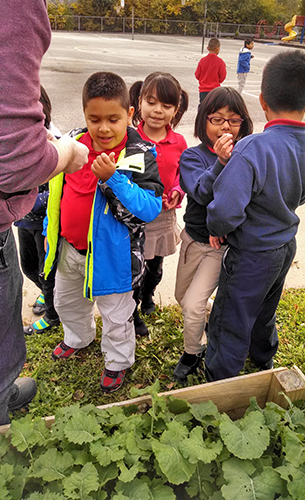 Ideally, today's generation of elementary students will attend college and pass on their food knowledge to the next generation—creating a sustainable feedback loop of local garden knowledge. The following entries by our college students highlight some of the successes and lessons gained from working in the garden: 
Tinza: "While working in the garden I learned many things.  First I learned how food grows.  After working hard to plant and take care of the garden it makes me realize that the food we buy at the store just doesn't come from a factory—that it actually originates from the ground up.  I am now confident I can start my own garden at my house or in my neighborhood.  Overall I enjoy the garden, what it has taught me, and the skills and knowledge we are passing on to the younger generation." 
 Lesley: "It was fun working with the younger kids.  They seemed very interested in the process of growing food.  It was nice to see the students with smiles on their faces as while they worked together.  From this experience I've learned new tricks on how to grow food and that it takes a lot of hard work."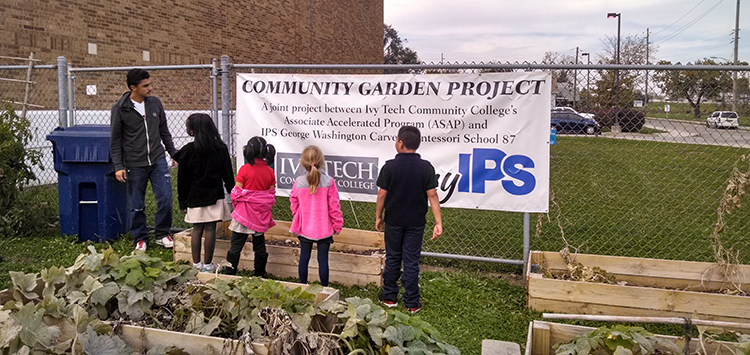 Ragan: "The garden itself was a huge success.  It produced a surprising amount of vegetables and fruit.  The experience affected me in a positive way because of how much excitement the children expressed during all stages of the garden." 
Paco: "Working in the garden not only helped me realize how important it is to help others, but also how much I enjoy giving back and working with children.  The kids were always super nice and funny!  My favorite part of the entire garden project was allowing the children to eat what they grew.  The garden was so much fun I actually went home and planted a garden for my little brothers.  They absolutely loved the idea of growing their own vegetables."
These inspiring voices give evidence that this season's garden was successful on many levels.  Not only did a new garden get established on an elementary school campus, but the garden created the opportunity for multiple generations of student to come together, and work towards learning about fresh food and creating a local food culture in their shared community. This is a great foundational step in cultivating not just a sustainable garden, but sustainable relationships between generations. We are excited to see this relationship grow and what the future may hold!