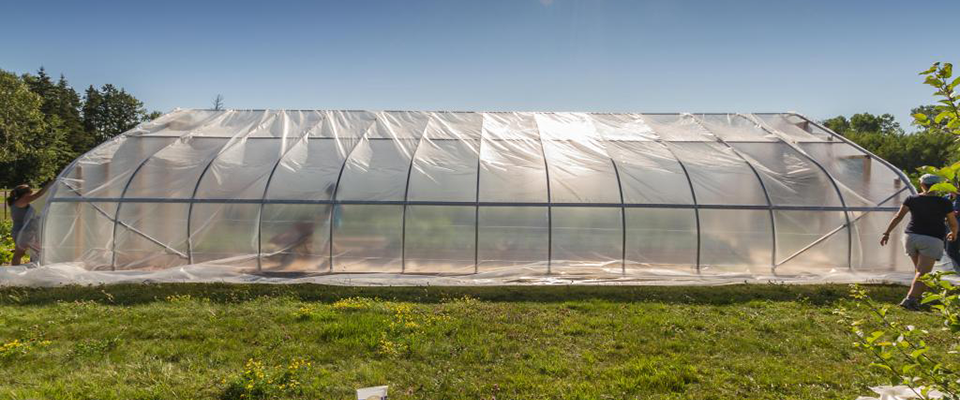 A New Growing Season Begins Under High Tunnels
All through the fall season – as the leaves change color, students return to school, and a frost covers the ground each night – we are busy planting vegetables in northern Wisconsin. Yes, you read that correctly. Long after the autumnal equinox passed, moving us closer and closer to winter and the possibility of snow every day, we are preparing for another growing season and harvest.
Five public school districts in northern Wisconsin – Drummond, Ashland, Washburn, Bayfield, and South Shore (Port Wing) – and the Bad River Band of Lake Superior Chippewa recently installed high tunnels and are gearing up for the winter growing season. The schools' high tunnels, made of metal framing and a plastic covering that shelters raised beds, keep plants warm enough to extend the growing season through the winter and allow an earlier spring planting. Our very short growing season occurs almost entirely during the summer vacation months. This makes the high tunnels essential in allowing students to gain experience growing and marketing produce in a cold climate where production at this scale couldn't otherwise happen during the school year.
During the summer, the high tunnels on school grounds still need to be maintained. We developed the Agripreneur program (read: Agriculture + Entrepreneur) to support students' work in the high tunnels during months when school is not in session. This program was made possible by a USDA Farm to School grant along with a collaboration between the Bayfield Regional Food Producers and the University of Wisconsin Cooperative Extension Programs in Bayfield and Ashland Counties. Each summer, a pair of high schoolers will be hired from every school to care for and sell a single crop in exchange for mentorship from professional local farmers, growing experience, and a cash stipend.
The Agripreneur program debuted for its first season during the summer of 2015. Students grew tomatoes that were sold to community members, local restaurants, and the school cafeterias. The program met its goal of increasing the volume of local vegetables consumed, both within the region and in school lunches. Sales to school cafeterias will continue through the winter as the high tunnels' harvests shift to nutrient-dense hardy greens and root vegetables, all grown by students.
We may live in a climate dominated by winter, but with the recent addition of these school high tunnels, our students are able to eat the freshest local produce available – even during the coldest months.
For more information on the high tunnels, the Agripreneur program, or other food sovereignty projects in the Chequamegon Bay region of northern Wisconsin, visit FEASTbythebay.org.