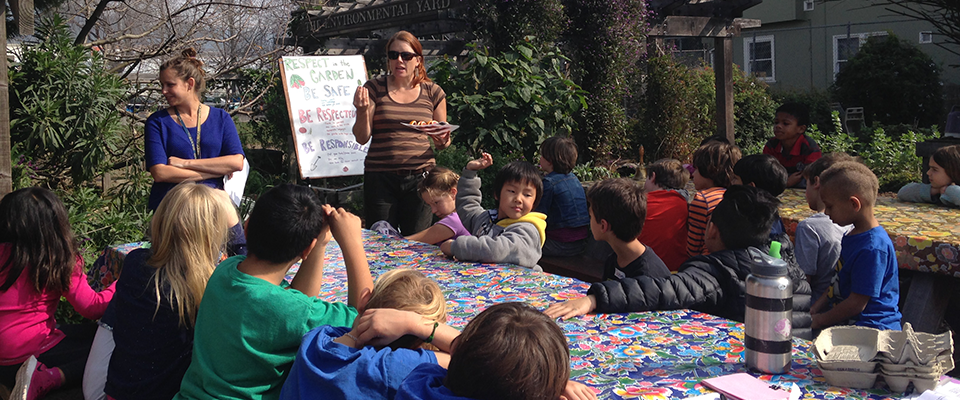 Garden-Based Learning in Berkeley Public Schools
The Berkeley Unified School District's Gardening and Cooking Program went through many changes over the last couple years. During the 2013-2014 school year, these changes encouraged us to develop a pilot curriculum for the program with support from teachers, garden educators, and curriculum consultants. Our team of experts gleaned from existing lessons and research to synthesize drafts that best fit our own school gardens and academic classrooms, which we piloted with students through the 2014-2015 school year. We rewrote the pilot lessons with input from our school communities to develop academic and health targets accessible to all of our students.
This year, 2015-2016, all students in primary school will be taught the first district-wide Garden-Based Learning Curriculum in Berkeley's public schools. The curriculum builds upon many years of educating our students in the garden and scales up content across grades and lessons for instructional scaffolding. It is designed as an interactive teaching tool, to be co-taught with classroom teachers and garden instructors as leads.
We have crafted seventeen lessons per grade to accommodate a classroom rotation that allows for each student to go out in the garden for forty-five minutes every other week throughout the year. It's a fine juggling game and this structure has helped us focus on consistency and efficiency, which is necessary when many school gardens and communities are involved. It's also important that each lesson connects directly to academic standards, including Next Generation Science, Common Core State, and Physical, Nutrition, and Environmental Health Education.
This work is made possible with the School Board's approval of ongoing funding for $350,000 and a grant from the City of Berkeley's Measure D (Sugar-Sweetened Beverage Distribution Tax) for $250,000, along with school site contributions of $15 per student served. These pertinent financial and programmatic steps institutionalized the first comprehensive, district-wide garden-based learning program and curriculum that marks a shift in education history. Community-driven support, along with an unprecedented commitment from the School Board and the City of Berkeley, demonstrates thoughtful leadership and a continued dedication to educating the whole child.
You can download a digital version of the new, concise and easy-to-follow lessons for preschool through fifth grade.You may also purchase print copies for a small fee online. All sales go to support garden instruction at our schools. If you have any questions or would like to purchase individual lessons, a Spanish translation, or order limited print copies, please contact us. We'd love to hear from you.