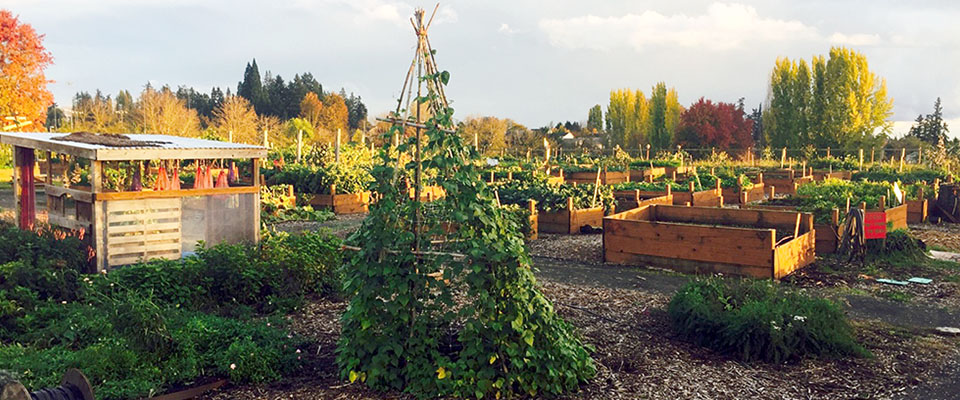 Community College Cultivates a Learning Garden
The Portland Community College (PCC) Rock Creek Learning Garden in Portland, Oregon is a diverse 3.6-acre garden that includes 48 raised beds (32 for food production and 16 for staff, students, and faculty), approximately ¾ acre of row crops, a cob tool shed with solar powered irrigation, an earthen oven with a green roof, a bioswale and rainwater catchment system, 65-tree orchard, berries, grapes, kiwis, beehives, and public art pieces. Food is grown for sale at our on-campus farm stand, Portlandia FarmStandia, and for donation to food pantries. The garden's mission is to promote interdisciplinary academic achievement, leadership development, and sustainable food systems by providing experiential education for Portland Community College students, faculty, staff and community members.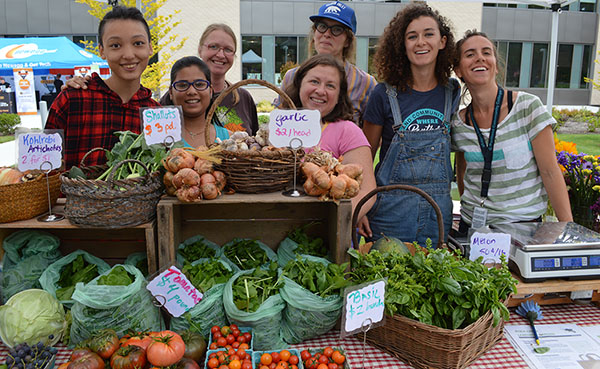 Portlandia FarmStandia
As an AmeriCorps Learning Garden Educator at PCC Rock Creek, my position entails collaborating with college professors to develop garden-based lesson plans that are integrated with their classroom learning objectives. In the past six months, I have engaged hundreds of students in garden education and sustainability practices on campus, in Geography, Health and Nutrition, English for Speakers of Other Languages, Adult Basic Education (GED) Science, Personal Sustainability, and Sustainable Landscape Design classes.
My most extensive collaboration thus far has been with Dr. Veronica Hotton's Geography classes. I have taught four different Geography classes: Human Geography, Geography of Global Issues, World Regional Geography, and Geography of Oregon. At the beginning of each course, I take students on a Sustainability Loop Tour to showcase the agriculture and sustainability initiatives on campus. After setting that foundational knowledge, I am able to delve deeper into specific contexts for each course. For example, for World Regional Geography, I cover topics such as the history of agriculture, regional plant domestication, the Green Revolution, industrial and organic agriculture, and food access and insecurity issues. Students are given a global context in order to understand why this work is important and what kind of impact it can have on our community. As Dr. Hotton describes it,  "teaching and learning is a creative process, and there are creative and grounded ways nearly any curriculum can be taught through and in the garden."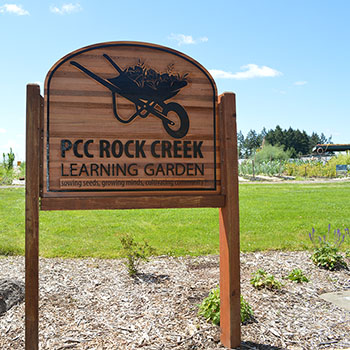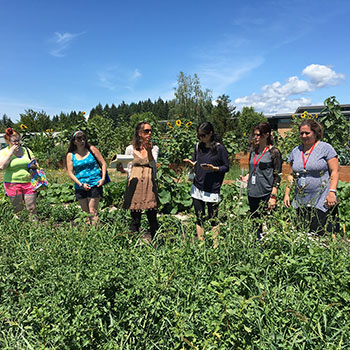 For the Geography of Global Issues class, the Sustainability Loop Tour is similar, but the introduction is different. First, I ask the class to reflect on three words: Health, Food, and Climate Change, which are three of the 17 global issues created by the United Nations Sustainable Development Goals. As a class, we form an interconnected web of topics and ideas that we can reference as students experience the Sustainability Loop Tour. This helps them to understand how the PCC Learning Garden promotes health, food production, food security, and environmental protection, and contributes to solutions to the three global issues we discussed. Dr. Hotton agrees that one of the many benefits of being in the garden is that "there are tangible examples from the classroom that students can both see and do." For example, Human Geography students learn about subsistence and commercial farming and then in the garden, experience a hybrid farm model as we sell produce and serve as a learning and community space.  
To me, the magic of the garden classroom is that it is interdisciplinary, cross-cultural, and grounded in the real world. Permaculturalist Geoff Lawton once said that "all the world's problems can be solved in the garden," and I could not agree more. Whether students are learning about ecosystem roles and functions while a hummingbird flutters by to pollinate a flower, or they are learning about the health benefits of growing organic food while they harvest and taste fresh carrots from the earth, the garden provides a space for learners of all ages to connect the dots and become problem solvers of the future.