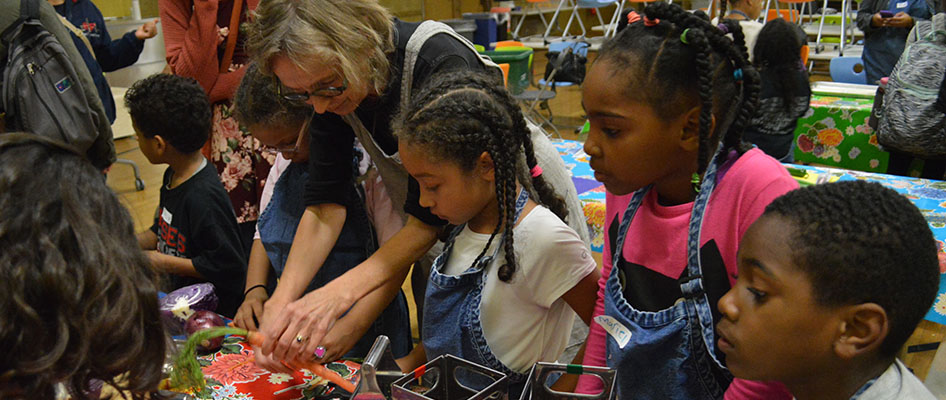 A Community Dinner at Roses in Concrete
Back in November, Edible Schoolyard Berkeley chef teachers Esther Cook and Nick Lee led a cooking class at a K-8 community school in East Oakland called Roses in Concrete. The school is doing a lot of work to include gardening and cooking classes as regular parts of the curriculum, and a number of their teachers attended our most recent summer training, so this was a good opportunity to deepen our connection with a nearby school. When I heard that they needed a third pair of hands, I jumped at the opportunity.
Our goal was to put on a cooking class that could feed roughly 30 people (children and adults), allow for everyone to have a role in preparing the meal, and have the cooking done in under an hour.
Our recipe of choice: Three Sisters Tacos, a classic at the Edible Schoolyard Berkeley. This recipe involves cooking tortillas from scratch and then making tacos using seasoned black beans, roasted butternut squash, queso fresco, and pico de gallo. To round out the meal, we would also make a red cabbage coleslaw.
To make the event run as efficiently as possible in the time we had, Esther and Nick pre-cooked the squash and the beans, roasting the squash in the oven and cooking the beans in large pots over portable burners. They also mixed the dry masa with water so that kids could simply grab a handful and form it into golf ball-shaped clumps to be pressed into tortillas.
The three of us arrived at the school around 4:00 pm and headed into the gymnasium. We set up two tables to be tortilla making stations, at one table placing the masa in large mixing bowls alongside two tortilla presses, and at the other hooking up three portable hot plates to cook them. Then we set up two more tables to be our coleslaw making stations, laying out cutting boards, large mixing bowls, graters, knives, and all the ingredients. Finally, we placed two more tables together to make our serving station.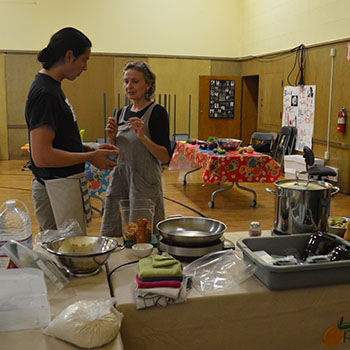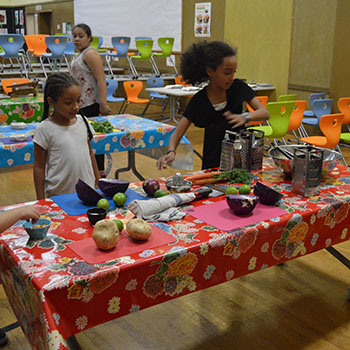 We planned on starting around 5:00 pm. We hoped to catch students as they finished up their after-school activities and include their family members when they came to pick them up.
We set up the gym in relative calm, but with a palpable sense of anticipation in the air. With the room arranged as we wanted, there was just one final ingredient we needed for a successful class—students. "Well," Esther mused, "I guess we'll just see who shows up!"
The first few kids to gravitate towards us and the array of tables, tools, and vegetables seemed plenty interested in what we were up to. "Ohhh I want to do that!" exclaimed one as she saw Nick starting to use the tortilla press. "I'm gonna cut some vegetables! Wait, what's this one?" chimed another. So the three of us, appreciative of the kids' interest, attended to the various questions and began cooking.
As we went about guiding the students through the various steps of preparing the meal, a steady buzz began to grow. I would momentarily leave a table with three students working at it and then come back to find six students. Sure enough, kids and their families were coming out of the woodwork, all eager to get involved with preparing the meal!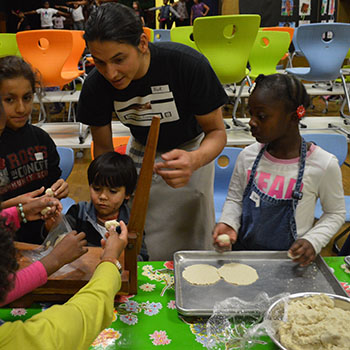 I took over one of the vegetable cutting stations, keeping an eye on each of the students who were happily chopping vegetables. We found our rhythm after a couple minutes of working at the table; the students were completely engrossed, thrilled to be working with their hands and using real tools to prepare the meal. And many had family members right beside them, both providing guidance and enthusiastically jumping into the cooking process themselves.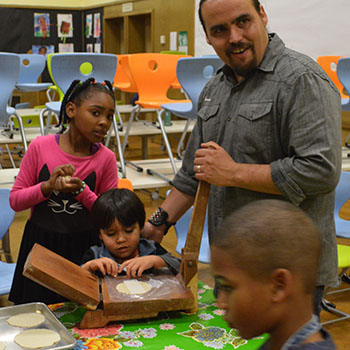 The meal preparation hurtled forward, and before too long most of the kids and their families were contentedly walking around or sitting down with a small plate of tacos they had helped prepare from scratch.
As the students and their families finished and said their goodbyes, I took a moment to reflect on the event. Coming here to Roses in Concrete showed me how food has a unique power to foster community. Kids of almost any age can get engaged in preparing nourishing food, and trusting them to safely use real tools allows them to be proud of their work.
As Esther, Nick, and I wrapped up the event, the three of us were practically glowing, grinning from ear to ear in the post-class rush. "Wow," said Nick, a little tired but thoroughly happy. "Now that was fun."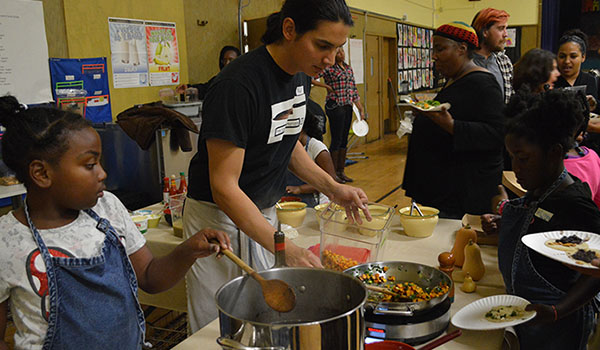 Check out our equipment list, which details all of the kitchen tools and cooking equipment we used for this lesson.