Prather Ranch: A Conversation, by Nikolas Soelter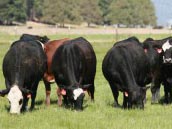 This week we are posting final essays from students that participated in Edible Education 103, a fall semester course taught by Michael Pollan at UC Berkeley's School of Journalism. The stories chosen were recognized as the top essays from the class. We would like to acknowledge and congratulate all six winning authors: Michele Gabbay Forman, Jillian Reese, Matt Hahn, Elena Gasparini, Nikolas Soelter, and Maddisen Ravalin! Today's cross-post is "Prather Ranch: A Conversation," by Nikolas Soelter. These stories were originally produced on the storytelling platform Cowbird.
I was recently hired to work with the respected Prather Ranch Meat Company and sell their sustainable and ethically raised meat at various farmers' markets throughout the Bay Area. The company is an outgrowth of the original farm and was started in 2003 by Doug Stonebreaker, who became a key player in the movement for organic beef certification, and one of the first ranches to be certified for humane raising and handling of beef. After four different interviews I was finally given the green light to join their team. Having worked several customer service jobs before without experiencing such a thorough examination, I was hoping this would be quite different. With a growing curiosity for all things food, I was eager to learn something and ground my own beliefs in what constitutes ethical and "OK" distribution and production of animal products.
We've discussed the fallacies of the meat industry quite thoroughly in this class, but it seems we haven't explored the role vegetarianism and veganism play in the food moment despite their frequency among Berkeley students. As someone who has always been an Omnivore, but has many close friends who practice a vegan or vegetarian lifestyle, I have always tried to find a way in which I could feel justified in my consumption of meat but at the same time understand their perspectives. In investigating Prather Ranch and their practices to prepare for my interviews, I thought that I had discovered a source for consuming meat that I could stand behind, and that seemed to avoid many of the pitfalls herbivores cite for avoiding meat, all of which I soon learned almost too much about.
I had the opportunity to work at the farmers' market with none other than Prather's CEO Doug Stonebreaker, my first day on the job. The man was a wealth of knowledge, but delivered it in the most humble and modest manner, and we spent a good deal of time chatting about Prather and their philosophy. I learned about the difficulties of being truly "Organic" and the way in which the label was slowly losing the umph it had previously carried, as corporate giants like Target and Walmart began to zero in on the growing desire for products with an "Organic" label which are often grown in a monoculture fashion. They don't uphold the principles which the Organic movement is/was founded on eventhough they carry the organic stamp (which money CAN buy).
This brings me back to the point about Prather Ranch avoiding many of the shortcuts large production companies take to bring the populace cheap food, and which causes many consumers to choose a meat-free lifestyle. The cattle which the ranch raises are not fed a diet of corn and soy to quickly fatten them up, but rather are fed what nature intended them to eat: grass. To ensure consistent quality in flavor, for the last 90 days or so, the animals are fed a combination of hay and grains (chopped forage, barley, and rice) which they can digest without problem. This is completely healthy for the animals -- it's unhealthy for any creature to eat one substance all the time. On large industrial farms, where the animals are crammed together, standing in their own waste, and eating food they cannot digest over and over again, they are bound to get sick, which is remedied by hopping them up on antibiotics for their entire lifetime, so that they can grow fat in muted discomfort. Antibiotics are not necessary on farms like those used by Prather Ranch because of this variety in diet, and most of all, because they are humanely raised and treated.
The animals of Prather Ranch live on open pastures and are free to choose where they make their home, whether it be on a bed of hay or in a field of grass. These living conditions allow the animals to engage in behaviors that they would naturally, and breed a stress free life. In addition, the animals are not segregated and kept from interacting. At Prather Ranch, the perfect environment in which to realize these tendencies is provided for the animals.
At the market, Dough and I talked about the idea of consuming animals in general, and this led to a discussion of the evolutionary significance of cattle. Cattle were one of the earliest domesticated animals, and all of the cattle we see on a regular basis now are derived from other domesticated cattle. Essentially, these animals convert sunlight to protein: sunlight is captured and stored in biomass by grass, which is consumed by cattle and turned into protein. Cattle are then consumed by animals who need protein. On ranches like these, the cattle get to live out a long and fruitful life, enjoying themselves the way nature intended them to. They then experience one "less stress-free day." Addressing whether these cattle experience a conscious reality, and have a sense of self, is a whole other thing but in any sense, they live what seems to be quite an enjoyable life on these farms. This "less stress-free day" and Prather Ranch's system for making this day as stress-free as it can be, allows humans to enjoy our end of the relationship we share with these creatures, while ensuring they life a full life. Doug and I came to this discussion in talking about Kosher versus Not-Kosher. By not qualifying as Kosher, Prather is able to practice more humane methods for ending these animals lives. Kosher certification is rooted in tradition which became cemented about a thousand years ago, and times have changed (to say the least). When the tradition had not yet developed a consistent method for killing animals, the slaughtering techniques were extremely varied, ranging from bleeding the animal out to beating it to death. Over time, the practice had to choose one method with which to associate its "sacred" quality, and this ended up being the bleed to death option. Now, there are much less painful and stressful ways of ending an animal's life.
Doug explained to me that to bleed an animal out, you have to first guide it into the killing plant and force its head into a head clamp. At this point, the animal is already the most stressed its ever been and everything after that is even more stressful. With the technology available today, and the work done by Temple Grandin (a savant with an insight into the conscious experience of cattle), Prather Ranch and other ranches that intend to treat their animals humanely, can perform the life ending operation in the most stress-free way possible. It just isn't humane to end an animal's life in the way that Kosher certification requires.
In the end, many people still have their personal reasons for choosing to avoid meat consumption, but for me, it seems there is a way to do it that is transparent, sustainable, and ethical. My first day at Prather was long but really rewarding, and I am truly looking forward to having more conversations like the one I was so privileged to have that Saturday in Marin out on the frontlines. As awareness continues to grow about the fallacies of large industrial monocultures, and small, stubborn farmers continue to work hard with the backing of public advocates and thinkers, the food movement -- or whatever you want to call it -- will have strong and stronger ground to stand on.