A Garden Start, by Rachel Manning and Hilary Neff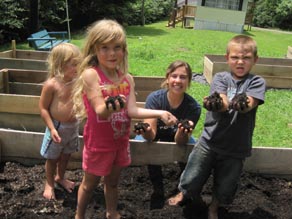 The Southern Appalachian region is disproportionately affected by national health patterns such as childhood obesity and diabetes. Though this area was once home to the largest coal camp in the world, the community now struggles with unemployment and a brain drain. Increasing levels of mountain top removal mining have damaged water supplies in the area and are also likely adding to general sickness in the area. Black Lung remains a prevalent disease for 10 percent of the population that is still employed by deep mining companies. Gardening was once a common practice in this area, which has limited land due to the concentration of houses near the mines. Community members explain that gardens have disappeared for two reasons: fast food is an increasingly convenient alternative, and much of the land appropriate for gardening has been bought up by coal companies or the government to build government housing projects.
We first visited the region on a service trip led by Immerse Yourself in Service, a student-run organization at Oberlin College. After talking to community members, we started brainstorming ways to increase food access in the area, and applied for grants to start a community garden. We were awarded a $10,000 grant from the Dalai Lama Fellowship and additional support from Oberlin's Creativity and Leadership Fund to launch the garden project. There was general support from the community, but when we attempted to start the garden in the summer of 2012, local investment waned. The garden was built and growing produce, but adults in the area did not personally want to participate. Instead, they referred us to friends or let us teach their children about gardening. After several weeks, the only consistent participants were children; we were beginning to understand that long-term investment and sustainability was going to be a substantial challenge but one we are ready to take on.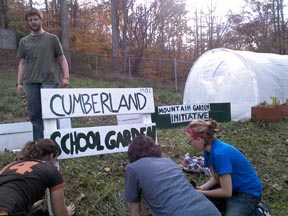 Our program, the Mountain Garden Initiative, provides 150 fifth- and sixth-grade students in the Appalachian region of southeastern Kentucky a space to learn about science, nature, and gardening in a hands-on, outdoor environment. It aims to foster respect for the environment and sustainable agriculture in the next generation, specifically in areas with limited access to fresh, local produce. We co-founded this garden with the mission to teach children valuable lessons about plant growth and gardening both inside and outside the classroom. To accomplosh this goal, we spoke to close friends in the area of southeastern Kentucky about the challenges we were facing with the garden, and the idea of partnering with the local elementary school arose. Cumberland Elementary School principal, Ms. Sheila Hall, was very enthusiastic about a hands-on science curriculum and was supportive of the garden. Community members helped move the six raised beds to the elementary school, and we began working with a fifth- and sixth-grade teacher, Ms. Tammy Stewart. We were lucky to meet a local farmer named Elmer who was generous enough to donate a large quantity of healthy compost to the garden, along with 20 blackberry plants that will bloom in the spring.
After completing the structure and late-summer planting in August, we returned to Oberlin College to continue our schoolwork. In October, we traveled to Harlan County with 12 other Oberlin College students. Each day, we met with fifth- and sixth-grade students as well as kids in the after school program. The Oberlin College volunteers worked with the Cumberland Elementary students in small groups and taught them about soil, decomposition, weeding, harvesting, and planting garlic. We harvested several squash and green beans that Ms. Stewart used in her vegetable soup recipe, which she served to her students.
The fall trip was an important marker of success for us. We connect with many Cumberland Elementary students who expressed their newfound appreciation for gardening and hands-on science activities. In the words of one young girl: "Gardening is important because it brings people together." Another student said, "If anyone asks me what my favorite subject is, I'm going to say gardening and science!"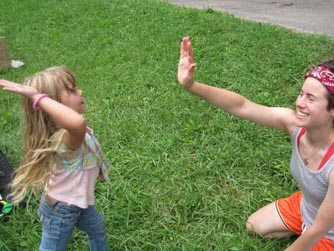 Inspired by the enthusiasm from the children, the Oberlin College volunteers fell in love with the area, and several pledged to return and continue working on the garden. Ms. Stewart was pleased with the activities in the garden and invited us to return this month to teach in her classroom. Out of 16 applicants, we chose five Oberlin students as interns for the trip. We will develop a curriculum so the school can integrate the garden into classroom lessons and activities. We will also bring the interns to Harlan County during Oberlin's winter term, to engage with Cumberland Elementary and help them plan a garden schedule that is most suited to their school's needs.
Mountain Garden Initiative's next step will be to develop a sustainable financial and educational model that may include employing local high school students who teach younger kids in the garden. Oberlin students will continue to visit, but the garden will be most successful if it the local community has total ownership over the project. Another option we are considering is to build upon the school's existing summer camp infrastructure to incorporate outdoor learning during the harvest season. This programming would allow students to continue their involvement in the garden despite the summer recess.
In future years, Mountain Garden Initiative may expand into the local high school, providing more students with yearlong access to a garden. But the ultimate goal is to instill the importance of environmental respect and agricultural knowledge in young children through gardening, while improving food access in marginalized communities. This vision fits into a growing world-wide movement to rediscover the value of healthy, fresh food in an age of increasingly unhealthy fast food. We have found this project to be immensely rewarding, and we hope to see the garden flourish in future seasons!