Edible Sac High Continues to Grow, by Erika Dimmler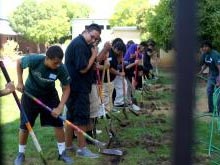 Erika Dimmler is the project manager for Edible Sac High. She is also a FUSE Corps fellow working with the Office of Mayor Kevin Johnson and Greenwise Joint Venture.
There is no better time to come to the table than during the holiday season. Between Thanksgiving and New Year's Eve, families around the world will sit down to share food, conversation, and a togetherness that warms the spirit of the season across cultures. At Edible Sac High, we have already begun to instill in students the importance of not only healthy eating, but also the simple pleasures inherent in preparing good, sustainable food and eating it together.
In that vein of togetherness, our program has sought to engage not only Sacramento Charter High School and the Forty Acres community, but also the city of Sacramento and the region at large. When we were beginning to think this past summer about how we might best utilize our garden space, we realized (in a moment of clarity!) that there may be eager, bright, young minds at UC Davis School of Landscape Architecture, who may want to collaborate with us.
UC Davis enthusiastically embraced that idea and we have facilitated partnership with the university in a few different ways. Since the launch of Edible Sac High, we have gathered 38 design ideas from some of the brightest minds at this academic institution, who used the model of Edible Sac High to complete their first quarter workshop in landscape architecture. For this project, UC Davis students participated in a design charrette with Sac High students who are studying engineering. The interaction allowed for an exchange of ideas and sharing of experiences: UC Davis students listened to Sac High students explain their commitment and desire to improve their campus by growing a garden. In return, Sac High students had the chance to ask questions to the university students about their educational experiences in high school and beyond.
Partnerships, collaborations, constructive conversation, community involvement – these are the essential factors which contribute to the success of a beginning stage gardening program. We started our edible schoolyard without a kitchen classroom component to our curriculum. As we are still some time away from creating that space, we have looked to our community for support. The Sacramento Natural Foods Coop and the Downtown Sacramento Hyatt Hotel have been two key partners who have embraced the project with unwavering support. Our resident teen chefs, who are at the forefront of our edible schoolyard program, have had opportunities to receive hands-on instruction, from knife sharpening tutorials to cooking a delicious vegetable stock. They also had the chance to interview professional chefs.
Community support for our program demonstrates with conviction that programs like ours positively affect members of our community while also providing children with a pleasurable way to learn important life skills. Their curiosity is invigorating and hopeful. As for the garden, it continues to exceed our expectations. Our inaugural plants went into the ground a month ago: swiss chard, arugula, spinach, lettuce, and turnips. Next week we will add garlic and fava beans into the mix. We will even plant our first trees (eight of them!) on campus before the end of the year. Alongside planting, students are learning about native plants, mulch, and aquaponics.
It is easy to detect students' sense of pride and ownership over the garden space. Whether they are sweeping leaves out of the courtyard after a particularly windy afternoon, or asking local businesses for soil donations, or even germinating seeds in their spare time, Edible Sac High student gardeners nurture their plot with respect and commitment. The largest reward for us, the educators, is witnessing students' willingness to try new foods and truly engage themselves in the full experience of the edible schoolyard.