New Edible Schoolyard Head Heron Plans for Growth, by Sarah Henry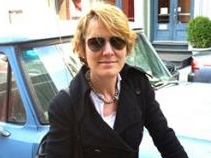 Veteran writer and editor Katrina Heron — who has done stints at The New York Times Magazine, The New Yorker, Newsweek, Vanity Fair, and Wired — was recently named the new director of The Edible Schoolyard Project, the nonprofit started by school food champion Alice Waters which seeks to promote edible education and reform the National School Lunch program.
While taking the reins at the school cooking, gardening, and lunch advocacy organization is a departure from Heron's journalism career, she has long been associated with the group and reported on a range of food matters for high-profile outlets.
Heron began working with ESYP (then the Chez Panisse Foundation) 11 years ago as a volunteer, joined the board of directors in 2003 and served until 2010.
.......
Heron is jazzed about her new assignment and thinks the time is ripe for an edible education revolution. "This is actually a tremendously optimistic moment. All across the country (and the world), people are beginning to stand up and challenge the appalling consequences of our industrial food system," she noted. "Our nation's single biggest food program, public-school lunch, is now sparking unprecedented calls for reform. This movement overall is coalescing in remarkable ways, bringing together educators, farmers, parents, children, environmentalists, scientists, technologists, student activists, progressive business leaders and even many of our politicians."
To read Sarah Henry's complete article, find it on Berkeleyside.