Scenes from UX Boot Camp, by Teresa Brazen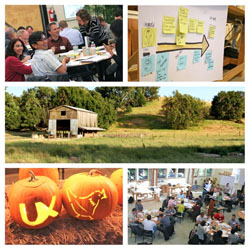 The Edible Schoolyard Project participated in a four-day boot camp by Cooper Design, in which designers from all over the world worked in teams to propose new tools for edibleschoolyard.org to enhance user experience. Though their proposals are specific to the intention of our work, we think they provide insightful and innovative ideas for online interaction and resource sharing. We've included all five proposals below.
User experience design is not a new concept. You can read about it on blogs or in books, but there is no better way to learn about UX than through hands-on experience. On October 8th, 31 designers, engineers, and project managers attended Cooper's four-day UX Boot Camp. Set on the 50-acre farm of Cooper founders, Alan and Sue Cooper, UX Boot Camp attendees studied Cooper's UX methods and applied them to a real-world design challenge for our nonprofit partner, the Edible Schoolyard Project.
THE UX BOOT CAMP CHALLENGE
UX Boot Camp is about learning by doing. We partnered with ESY Project to give students the chance to tackle a real design challenge for a real client: design web and mobile solutions to empower ESY Project teachers to network, share, exchange ideas, and help the edible education movement grow.
All good design starts with understanding users. Attendees of the boot camp traveled to the garden at Martin Luther King Jr Middle School to visit the site where Alice Waters built the first Edible Schoolyard. The class immersed themselves in the space and conducted interviews with teachers and stakeholders to understand the value of food education. Back at the Cooper farm, teams created personas, scenarios, and design solutions, drawing from their observation and experience in the garden at King.
The course culminated with teams pitching their final concepts to Alan Cooper, teachers, and stakeholders from ESY Project.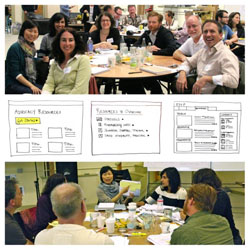 OUR STUDENTS MAKE IT WORTH IT
We are so proud of our UX Boot Camp graduates for taking charge of their education, trying out new methods, taking risks, embracing discomfort, asking questions, doggedly pushing through the rough spots, and giving their best effort to come up with design solutions to benefit the ESY Project. For us, the UX Boot Camp instructors, the magic moment was watching our students deftly present concepts to a panel of stakeholders.

THE PEOPLE WHO MADE IT ALL HAPPEN
In addition to the rock star attendees, the success of this UX Boot Camp is due to an amazing community of people to whom we are immensely grateful to. A special thanks to Kendra Shimmell for envisioning the UX Boot Camp program and leading the workshop. Thank you to our instructors, Nikki Knox and Stefan Klocek, for bringing their unique content ideas to the coursework. A cheer for our Social Media and Marketing intern, Julie Celia, for jumping into UX Boot Camp just a few weeks after arriving at Cooper. And to our hosts, Zak Brazen, Wyatt Starosta, and Alan and Sue Cooper, for everything they did to make the farm a warm, inspiring place to teach.
We couldn't have pulled off such a great Boot Camp without the six ESY Project teachers who shared their time and experience! We truly appreciate the support of our Edible Schoolyard Project stakeholders, Kyle Cornforth and Emilie Gioia, who worked tirelessly to help us define the UX Boot Camp challenge, identify teachers for research interviews, and gave our students great feedback during the final pitches.
THE FINAL CONCEPTS
Everyone was amazed by the quality of design ideas which emerged from the four-day UX Boot Camp. Each team's solution illustrated a clear understanding of their client and the needs which would be met. Their skill at identifying the right problem to solve, displayed impressive collaboration, communication, and intuition.
Concept by Team Social
Because ESY Project programs require investments of time, human resources, and funding, getting the support of school administration can be a challenging part of launching a new program. To make this process easier for busy teachers, Team Social proposed talking points and downloadable presentations on the ESYP website to set teachers up for success when entering conversations with decision-makers. Teachers would receive instruction on how to build support within their local community that could help sway administration. After making use of these web tools, educators would receive a follow up email asking how their efforts fared, guidance tailored to their current obstacles, and ways to connect to ESY Project advocates that can help. Download Team Social's proposal here.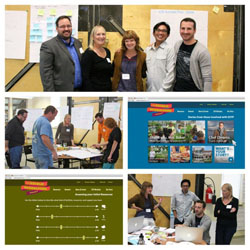 Concept by Team UX Chicken
Instead of focusing on teachers, Team UX Chicken chose to target college-age students who graduated from an ESY Project program. Here's why: During research, this team realized that given the challenges of starting an ESY Project program, they are typically initiated by those who are strong ESY Project believers. Where better to recruit new teachers than in the pool of students who experienced the curriculum first-hand and are convinced of its' value? Understanding this, Team UX Chicken conceived of an online alumni network that would cultivate the ESY Project teachers, volunteers, and advocates of tomorrow. This platform would empower former students by giving them a way to share the story of their experience with edible education, peruse a map to identify current needs at ESY Project programs, or start a program of their own. Download Team UX Chicken's proposal here.
Concept by Team A Lil' Sumpin' Sumpin'
Team A Lil' Sumpin' Sumpin' discovered in research that, as a result of teachers' packed schedules, most collaboration and knowledge exchange between educators happens in informal hallway conversations between classes. These interactions have unique benefits: they're quick and improvisational, they happen during precious free time, and their impact is immediately evident.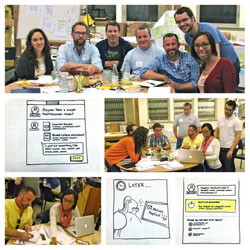 The "Digital Hallways" concept brings these conversations to the web, making them available to ESY Project teachers across the nation. Integrated into the current ESY Project website, this online forum offers a place where teachers can quickly post questions about curriculum, lesson plans, starting new ESYP programs, and more. Teachers using the Digital Hallway forum also see tangible measures of their impact (e.g. You helped 44 students today!), much like they do when talking to teachers face-to-face. Download Team A Lil' Sumpin' Sumpin's proposal here.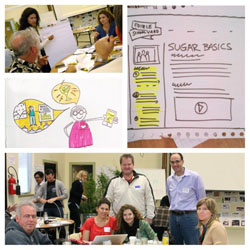 Concept by Team FlyFighters
Team FlyFighters discovered that program leaders are typically only focused on bringing the curriculum and philosophy to their local community. This means programs across the nation aren't well connected to one another, leaving new program leaders without a strong support base. But, what if ESY Project teachers were incentivized to help teachers in other regions and saw evidence that their efforts were working? Team Flyfighters' conceived of a web-based platform for knowledge sharing across ESYP programs all over the USA. Whenever a teacher's contribution is used, they receive a mobile notification acknowledging their support and confirming their efforts made a difference. Download Team FlyFighters' proposal here.
Concept by Team International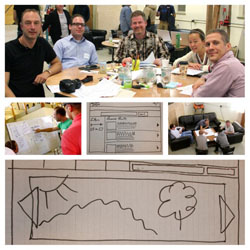 When interviewing ESY Project teachers, UX Boot Camp students discovered that while teachers don't have a lot of free time, they will make time to share ideas if they know the material will be used. Focusing on ways to enhance ESY Project's current website, Team International proposed a discussion forum to encourage dialogue between peers, which notifies them when someone is responding or has questions about their contributions.
They also proposed modifying the way curriculum is presented, so that it sits within a visual ecosystem of images, resources, and information that give a richer sense of what it might be like to teach that curriculum.
Download Team Social's proposal here.
About the Author: Teresa Brazen is the Education and Outreach Strategist for Cooper U., a division of the design firm that offers courses which deliver practical methods and techniques through hands-on activities and discussion.