Cooking with California Food in California Schools, by Alice Tebo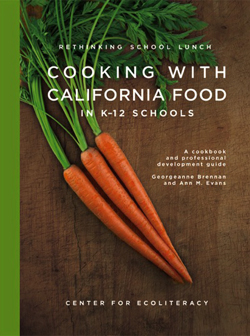 Alice Tebo is communications coordinator at the Center for Ecoliteracy.
Rice noodles with bok choy. Ham & yam pizza. Albondigas soup. Tabbouleh salad. Such diverse and delicious dishes don't show up in your typical school cafeteria – but over the past year, an exciting cookbook from the Center for Ecoliteracy has been (slowly but surely) helping to change that.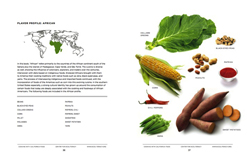 Funded by TomKat Charitable Trust and co-written by award-winning cookbook authors Georgeanne Brennan and Ann M. Evans, Cooking with California Food in K-12 Schools offers ideas for incorporating more fresh, local, healthy ingredients into school meals while honoring the state's cultural history and agricultural abundance. It introduces the dynamic 6-5-4 School Lunch Matrix, a new menu-planning concept based on six dishes students already know and love (salads, soups, pastas, rice bowls, wraps, pizza toppings); five ethnic flavor profiles (African, Asian, European/Mediterranean, Latin American, Middle Eastern/Indian); and four seasons.
In August 2011, Cooking with California Food was launched at a conference held at the University of California, Davis for school food innovators from across the state. Food service directors representing 41 school districts and 1.3 million students engaged in a lively, hands-on cooking school, road-testing recipes from the cookbook and sharing best practices. (See a photo-essay about the conference here.)
Available for free on the Center for Ecoliteracy website in both English and Spanish, Cooking with California Food has been downloaded more than 33,000 times – and counting. At seminars, workshops, and trainings across the state, over two thousand hard copies have been distributed to influential food service directors and food reform advocates, including nutrition services "ambassadors" hand-picked by the California Department of Education (CDE) from different districts. Successful cooking schools, based on the cookbook and taught by Evans and Brennan, have taken place in Novato, San Rafael, Oakland, Los Angeles, and beyond. And last month, the cookbook was the centerpiece of the Center for Ecoliteracy's "California Food for California Kids" conference in Oakland, which drew more than 100 school food leaders from across the state.
The roots of this fruitful collaboration between the Center and Evans and Brennan go long and deep. Starting in the late 1990s, the Center – a nonprofit dedicated to education for sustainable living – funded a "Fertile Crescent Network" of schools in five Bay Area counties that brought together educators and their allies in food reform, including farmers, nutritionists, and food systems activists. The Center also convened a regional Food Service Directors Roundtable.
Evans was an active participant in both efforts. As nutrition services consultant to the CDE, she worked closely with school districts and community organizations to improve school food. She was also a longtime advocate of sustainable agriculture and a well-respected innovator in her hometown of Davis, having served as mayor, cofounder of the Davis Farmers Market and the Davis Food Co-op, and one of the founders of the Davis Farm to School Connection.
These early meetings of the minds marked the beginning of an ongoing relationship over the last decade and a half. Among other projects, Evans contributed to the Center for Ecoliteracy's seminal 2004 Rethinking School Lunch (RSL) Guide – a planning framework for changing school meal programs, promoting health, and enhancing ecological understanding. She was also a featured presenter at RSL seminars attended by hundreds of change agents from 40 states across the U.S. and eight countries.
In 2006, Evans joined forces with acclaimed cookbook author and educator Brennan to form the consulting firm Evans & Brennan. Davis Farm to School Connection, the school district, food service director Rafaelita "RC" Curva, and Evans and Brennan have collaborated on their desire to develop a school lunch program that connects healthy food with nutrition curriculum, recycling, and cooking lessons for food service staff. Beginning in 2008, Evans and Brennan began to offer cooking lessons with an ambitious goal: transforming the much-maligned school lunch plate with fresh, local, seasonal food prepared in simple ways.
"As we worked with the school lunch staff, we discovered that most of them not only knew how to cook from scratch, but they were great cooks eager to learn more about seasonality and new ways to prepare ingredients," notes Brennan. "We learned that some of the staff grew up with gardens, shopped at the farmers market, and retained their knowledge of how to cook food from their places of origin. Not to mention their knife skills! Impeccable."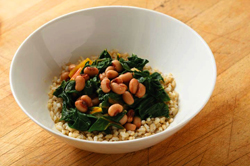 Evans and Brennan came to realize that some way to organize the staff's considerable knowledge about food and flavors would be beneficial. After many kitchen-table discussions, outlines, and spreadsheets, the duo conceived the 6-5-4 School Lunch Matrix, which would enable food service staff members to take dishes already loved by students and vary them by flavor profile and by season. By 2010, they had what they felt was a tight, usable scheme and teaching methodology that could be used on a statewide and (hopefully one day) national scale.
Their creative work did not go unnoticed by the Center for Ecoliteracy. "A crucial component of Rethinking School Lunch is its emphasis on the professional development of food service staff," says executive director Zenobia Barlow. "We planned to re-launch RSL with a California focus. So when Ann told us about what they were doing in Davis, we were naturally intrigued and traveled there to learn more."
What Barlow observed in the cooking classes impressed her. "I wanted to make the brilliant 6-5-4 Matrix available to everyone," she says. Evans and Brennan soon suggested the concept of an inspiring cookbook and professional development guide that would do just that. Barlow didn't need much convincing; the Center for Ecoliteracy quickly came on board and agreed to design, produce, and publish the book under its "Learning in the Real World" imprint.
The project's continued success is gratifying for all involved. "Cooking with California Food is a gift to nutrition services staff everywhere," says Barlow. "It offers a clever and simple way to think on your feet. It's flexible and imaginative about integrating seasonal foods into school menus." And while fielding invitations to speak at national conferences is thrilling, teaching behind the scenes is its own rich reward. "We love working in the kitchens alongside the people doing the cooking," says Brennan. "It's exhilarating to watch them grow in confidence and find ways to bring their love to the children they serve."