A Spiritual and Practical Edible Education, by Moko Morris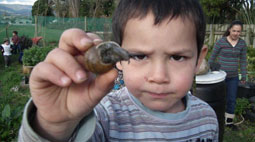 Moko Morris is a member of edibleschoolyard.org and facilitates the Ōtaki Maara Cluster garden programming.
In 2008, educators and parents in our region of New Zealand, known as Ōtaki (pop. 7,000), began to meet informally to discuss ways in which edible education could be achieved in our various institutions. Our meetings were successful in identifying resources we needed or shared, and the community gatherings provided an environment for us to voice any issues we were experiencing and hear solutions from others with similar challenges.
Through these gatherings, we decided to jointly apply for the Healthy Eating, Healthy Activity (HEHA) fund which became available through the Ministry of Health. Based on the guiding principles of Te Wananga o Raukawa, the Māori University established in Ōtaki, we set out to achieve a very specific mission: to provide all children in Ōtaki with access to a gardening curriculum. It is through care for our homeland that we preserve our community, but through care for our people, that we preserve our true wealth and humanity.
The first round of funding allowed us to build five separate gardens and support six existing ones. Now in 2012, each educational instructor runs a site-specific program, exercising ways and means to tend, extend, and learn in the outdoor garden space. There are a total of 11 gardens which connect students of all ages (pre-school through high school) to edible education – five of these are total immersion providers, with instruction taught in māori.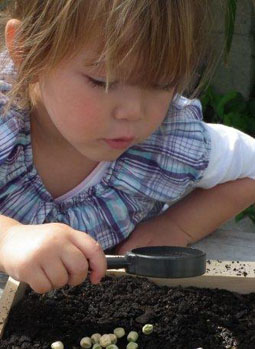 We are still working on curriculum, since our student base is wide-ranging. We have tried in the past to get together and create the same action in all garden spaces. An example: we all planted garlic the same week, dividing all of the bulbs we had and experimenting with different ways to grow. Our larger mission to create a body of knowledge-sharing and resource-sharing garden classrooms means that we accumulate different approaches to edible education based on each garden's capacity, needs, and resources. The early childhood gardens are able to incorporate garden-based learning into each day of school, mainly because they are designed for child-led activities. But as we spend more time in each garden, and grasp its functionality, our priorities change in order to incorporate more time for every student in garden. These ideas and wishes help us to foresee and document future gardening requirements.
While we do receive funding from government agencies, the Ministry of Māori Development, and the local council, Kapiti Coast District Council, it is often difficult for us to maintain a consistent, long-term action plan. People can be a scarce resource, and educators often lack confidence in their ability to embed garden education into pre-existing curriculum. As seasons change and distribute their energy, so too can people involved in a garden education program. Ideally we would like to employ a gardener to support all of our schools in the construction of and tending to our various gardens.
We have accepted a few models of support which have helped us through various stages of development: school caretakers and committed parent volunteers have helped with the management of our garden spaces. The local council employed a "green gardener," Kath Irvine, who was instrumental in guiding us through design aspects, and providing free workshops which have helped us to continue and preserve our efforts.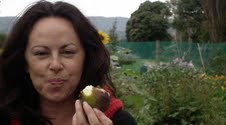 In New Zealand, there are plenty of garden projects, but most of them are informal. It is common for schools to have a garden, but to utilize the space for academic achievement is a different kind of operation. A few organizations –Te Waka Kai Ora Inc, NZ Soil & Health, Enviroschools, to name a few – are involved in supporting organic gardening education to provide meaningful, simple, and effective strategies for us to implement.
To teach children responsibility for themselves and the world around them, offers them the space to explore their roles as future guardians of their community and this earth. In the context of indigenous Māori creation stories, food is a product of Kai atua – or "the gods" – meaning it is "pure." Children experiencing edible education have an opportunity to sew these miracle seeds. Their education – a spiritual and practical one – is about interconnection between students, their larger community, and the meaning of the place they live and learn in.