Foodie Celeb Alice Waters Stops by Baltimore School Garden Today, by Rachel Monroe
Posted
September 20, 2012
It would be easy for Alice Waters, the celebrity-chef owner of Chez Panisse and godmother to the organic/local food movement, to spend her days sniffing over heirloom eggplants and other organic delicacies at Berkeley farmers markets. Just like it would've been easy for Jennifer Crisp to continue her career as a chef in California, home of the country's most discerning foodies. But "easy" isn't necessarily what these women are interested in — which is why you'll find both of them with their hands in the dirt this week, helping expand one struggling Baltimore City school's nascent garden program.
Crisp's path to New Era Academy, a middle/high school in the low-income Cherry Hill neighborhood of Baltimore, is a winding one. As a chef in California, she moved in the same circles as Waters — and made a salary approximately ten times as much as she's now earning as a teacher. But she couldn't escape the nagging feeling that she was meant to work with children.
When Crisp came to New Era three years ago, she found that some of her students didn't even know that vegetables grew from seeds. Her school was in one of Baltimore's food deserts, meaning that there was no reliable source of fresh, healthy food for miles. Students scarfed down chips, candy, and soda for breakfast. Crisp, who has fond memories of daily home-cooked breakfasts, wanted her students to experience the same delicious bounty in their lives. So she started incorporating her foodie expertise into the classroom.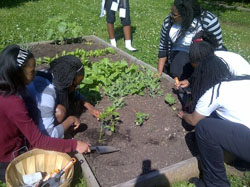 So Crisp started incorporating recipes into her reading lessons, and bringing in cooking equipment so her students could get some hands-on experience with food preparation. "We cook all vegetarian food," Crisp says, "and we even recreate some of Alice [Waters]'s dishes." Ready to take her teaching to the next level, Crisp applied for several grants to fund a school garden; all were declined. Undaunted, she cobbled together some raised beds anyway. These days, she's on the way to implementing a real farm-to-table classroom, where the students grow the food, create the recipes, and cook in the classroom; her next target is the school cafeteria.
"There's something about when they come into the classroom and they can smell the food," Crisp says. "And it changes their attitude right away." Crisp sets aside one day a week so students with good behavior can get a special cooking class from her. Last week, Crisp approached a student who'd obviously been having a bad day. Instead of disciplining her, she said, "I said, 'Let's just string up some herbs.' And just the smell of the sage and rosemary calmed her down."
Earlier this spring, Crisp ran into Waters at an event at Monticello in Virginia. She explained her project at New Era, and Waters was intrigued. When Crisp's students sent Waters a parcel of hand-made, fruit/vegetable-themed birthday cards with original poems ("I'm a felon/I wish I was a watermelon," was one example), she was hooked. Much to Crisp's surprise, Waters asked if she could stop by New Era today to meet with students and check out the garden.
"If you would have told me that I would be cooking and sitting down with Alice Waters I would have made you into tofu!" Crisp says.
Crisp is looking forward to Waters's visit, but she's thinking about the future as well. "If I want to dig the whole courtyard up [and plant more gardens]," Crisp says, "[the school's principal] is fine with that." But the problem, of course, is one of resources. Crisp is on the lookout for donations of lumber, soil, and sweat equity; money, of course, would also be welcome. If you'd like to get involved, send her an email.
Crisp is also working on a cookbook with a focus on cooking for (and with) kids in an urban context. She incorporates both fresh foods and readily-available ingredients (the noodles from Cup-o-Noodles, for example) so the food is both accessible and tasty.
Original story published on Baltimore Fish Bowl, September 19, 2012. Dates have been modified to reflect today's visit to New Era Academy.