Edible Education 103: Telling Stories About Food and Agriculture
Posted
September 18, 2012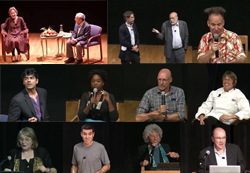 Edible Education 103 lecture series instructed by Michael Pollan returns to UC Berkeley for the second year. Below find the details and links to pertinent information on the course.
COURSE INFORMATION
Day/Time: Tuesdays, 6:00 - 7:45 pm, fall semester 2012
Location: Wheeler Auditorium, University of California, Berkeley
Instructor: Michael Pollan, Knight Professor of Journalism
COURSE DESCRIPTION
As the costs of our industrialized food system—to the environment, public health, farmers and food workers, and to our social life—become impossible to ignore, a national debate over the future of food and farming has begun. Telling stories about where food comes from, how it is produced—and how it might be produced differently—plays a critical role in bringing attention to the issue and shifting politics. Each week, a prominent figure in the debate explores: What can be done to make the food system healthier, more equitable, more sustainable? What is the role of storytelling in the process? To view complete syllabus click here.
COURSE VIEWING
This course is currently open for enrollment to all UC Berkeley students. There will be 300 seats available to the general public each week, by reservation. Visit the syllabus page to reserve a seat. There, click on the title of the lecture you would like to attend (each lecture must be reserved separately).
We will also be posting the recorded lectures in our Resource section as well as on our Vimeo and YouTube pages.
In addition, we will be hosting Google Hangouts with a number of the lecturers throughout the fall. Check for Hangout listings on our events page and visit our YouTube page to watch the Hangouts live!