Alice Waters Visits Bradley Elementary: a Garden of Productivity, by Gigia Kolouch
Posted
September 12, 2012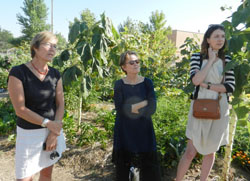 Gigia Kolouch is a member of edibleschoolyard.org and Seed-to-Table Program Coordinator at Slow Food Denver.
The Bradley International school garden in Denver, Colorado was speckled with sun when Alice Waters stopped for a visit last Wednesday. We met early in the morning, when the light was low, illuminating the flowers from behind their petals. I was struck by the beautiful chaos of the garden and how well the flowers were integrated with edibles.
Alongside Lee McClure, the Bradley garden leader, and Laurie Schneyer, my colleague at Slow Food Denver, I met Cristina Mueller and Alice while captivated by some morning glories. We talked in the shade of giant sunflowers, and Alice listened patiently to our retelling of this garden program's history and the partnerships that sustain it. Sometimes when people visit our gardens, one can observe that they aren't actually seeing what is going on – they don't stop to smell, touch, and sample what's growing. It was very gratifying to witness Alice as she herself observed our work – and validated it – with smiles and admiring gestures.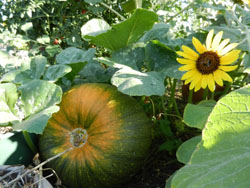 At the end of our garden tour, we welcomed Anne Wilson and the Denver Public Schools food service staff to join us, and share the story of their work and involvement in creating a thriving food education program on Bradley International's school grounds.
Bradley demonstrates a vibrant outcome of collaboration between a school community, Denver Public Schools (DPS) Food Service, local nonprofits, and local businesses. Because Denver school gardens don't have regular funding for garden leaders, we've created school garden support systems to meet the individual needs of each school garden program in the Slow Food Denver network. Our program's mission seeks an essential achievement: to provide students with an education and skillset that enables them to feed themselves, their community, and their school.
It took a dedicated team of garden designers (Learning Landscapes), an urban agriculture nonprofit (Denver Urban Gardens), and a grant from Origins, to build the current garden infrastructure. Slow Food Denver supported the development of the space by training volunteer garden leaders to use the garden as a curriculum resource. Now, garden activity expands beyond the school day into an after school program led by Helen Trueblood and Clark Milsom of Denver Urban Gardens. Students who take part are involved in planting and maintaining the garden. They also participate in cooking activities on-site.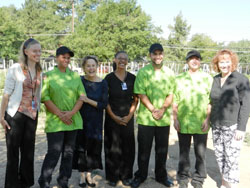 The school garden, and the activities that bloom from it, comprise one-half of a two-part agricultural operation happening on Bradley's campus. On the premises, there is a school farm run by Agriburbia, which leases land from the school district to grow, harvest, and sell produce back to DPS food service for use in the neighboring school cafeterias. Over the past few years, DPS' "Back to the Future with Scratch Cooking" boot camp has trained all kitchen staff to cook from scratch, using local foods and fresh ingredients. With the help of Slow Food Denver, local chefs and culinary professionals were also brought in to volunteer and instruct during the boot camps. Graduates of the boot camp earned green chef jackets and a true understanding of the value of real, wholesome food.
This fall, students at Bradley will take their food education into a real-world marketplace. Through support from the Denver Urban Garden team, they will work shifts at a weekly farmers' market and sell school-grown produce to local consumers. Vending alongside other producers who bring local fruits and vegetables to the marketplace, students learn occupational skills because, well, they are actually doing real work: they plant; they harvest; and they bring their produce to market. In this setting, each student wears the hat of an urban farmer. He also achieves a tremendous accomplishment, that of feeding himself and his community.