Training Our Next Generation of Small-Scale Farmers
Member Susie Walsh Daloz is the program director for UVM's Farmer Training Program in Burlington, Vermont. Here is her reflection on the first big harvest of lettuce for Sodexo (UVM's food service provider) picked by student farmers for students of the university.

It was a hazy, warm early morning at UVM's Hort Farm as a group of Farmer Training students walked crates and crates of beautiful lettuce out of their fields. Not only was this the first harvest of the season, it was also the first harvest that the program would be selling to Sodexo, the food service provider at the University of Vermont. After the lettuce was harvested, washed, packed and delivered to Sodexo, it would end up being served at orientation to incoming students at UVM. Said in a different way, student farmers in our training program are making an amazing connection with their land and feeding other UVM students as well. This circle of giving is one of the many exciting stories to tell about UVM's Farmer Training Program.
In its second year, the UVM Farmer Training Program is a six-month intensive program for aspiring farmers and food systems advocates that provides a hands-on, skill-based education in sustainable agriculture. It is a full-time program that gives participants the unique opportunity to manage their own growing site, take classes from professors and expert farmers, and rotate as workers and learners on successful, diverse farms in the Burlington area. Participants leave with a Certificate in Sustainable Farming, a deeper understanding of agricultural management and small-scale farming, and the entrepreneurial skills to start their own operation.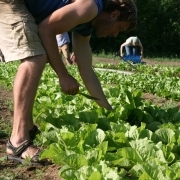 In 2012, we have 18 incredible students from all over the country and Canada who have come to Vermont to immerse themselves in the vibrant and innovative small-scale sustainable farming scene. Some have left careers on Wall Street or in chemical engineering to pursue their passion in sustainable food systems. Others have been studying farming and food systems in undergrad and grad programs and are here to learn the tangible skills of growing and selling food. Others still, have farmed or gardened for a few seasons and are ready to take the next steps to start their own farm business. All bring their enthusiasm, interesting backgrounds, and commitment to get their hands dirty and their minds expanded.
So far this season the students have already been elbow deep in farming and all the learning that comes with it: greenhouse propagation, double digging, tractor work, transplanting, weeding, irrigating, harvesting, washing, packing, and selling. To augment field education, we have had classroom lectures on soil, plant families, business planning, marketing, and weed management – to name a few. On top of all of this, each student is pursuing their own independent project on a topic of particular interest to them: aquaponics, farm events, compost ecology and value added products.
As our students head back to the fields to keep farming and learning, we support and observe these young rock stars as they become the next generation of farmers we so desperately need.