Making Dinner a Family Affair
The Edible Schoolyard recently held our third Family Night Out class, giving almost two dozen families the opportunity to work together preparing a Mexican feast. Led by cooking teacher Griselda Cooney, King students demonstrated their culinary prowess as they assisted their parents and siblings in pressing tortillas, blending agua fresca, cooking cactus and preparing jicama salad. This week, two participants in the class share their reflections on what they experienced.
From Margaret Simpson, mother of three current King students:
"Luckily I worked alongside Blanca Manriquez at the Family Night Out at the Edible Schoolyard Kitchen. We were making ensalada de nopalitos, one of several dishes for the last of the family dinners series. It was a lot of fun, we learned a lot and, like the other two dinners, we had the chance to sit down and have dinner with over 20 families from the King community. I had never seen, tasted or prepared nopales, which are delicious, though a little daunting, as they are from the cactus family. We learned how to use the paring knife to remove the pesky thorns. We then chopped the nopales and boiled them in salted water with sliced onions. Mixing the nopales with cilantro, fresh tomatoes and lime juice resulted in a delicious, simple dish for dinner. Homemade tortillas, guacamole, jicama salad and cucumber-mint agua fresca all made for a fantastic dinner."
From Blanca Manriquez, mother of an eighth grade student at King:
"Fue una experiencia fascinante el haber participado en la serie de clases de cocina con el equipo de "The Edible Schoolyard" durante los pasados 3 meses. En esta ultima, varias familias tuvimos la oportunidad de cocinar platillos no muy común entre los comensales que ese día participaron. Entre otros platillos el menú consistió en Ensalada de Jicama, Agua Fresca de Pepino, ensalada de nopalitos y Guacamole. Parte de nuestro grupo se dedico a la ensalada de "Nopalitos" y aunque fue un poco retador darnos a la tarea de quitar las espinas a los nopales, valió la pena pues la ensalada estaba riquísima. Finalmente, pudimos disfrutar una deliciosa cena preparada con nuevas verduras que en este caso son originarias de Meso América. Disfrute mucho de todo lo que preparamos pero en especial de el agua fresca."
Translation:
"It was a fascinating experience to have participated in a series of cooking classes with the Edible Schoolyard at King Middle School during the past three months. In the last one, several families had the opportunity to cook dishes that were not very familiar to guests
who attended that day. Among other dishes, the menu consisted of jicama salad, cucumber agua fresca, nopalitos salad and guacamole. Part of our group was dedicated to the nopalitos salad and although it was a bit challenging to us to remove the cactus thorns, it was worth because the salad was scrumptious. Finally, we enjoyed a delicious dinner prepared with new vegetables, in this case: jicama and nopales, both of which originated in Mesoamerica. I really enjoyed all that preparation and cooking, especially the cucumber agua fresca."
Thanks to our guest journalists Blanca and Margaret, first for their talented children who helped make the dinner a delicious success and second for their insightful accounts of a wonderful evening!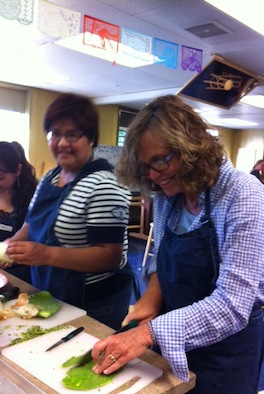 Blanca (left) and Margaret (right) prepare nopales together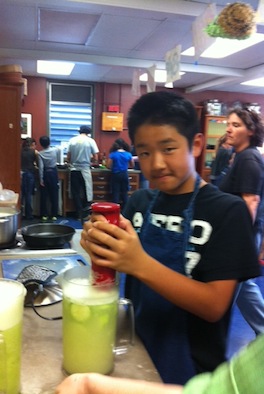 A student blends cucumbers into a delicious agua fresca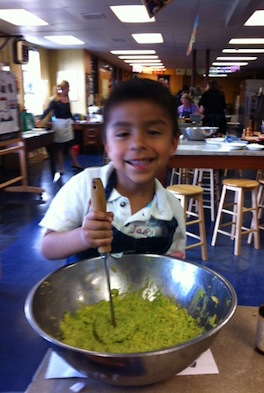 A budding chef tends to the guacamole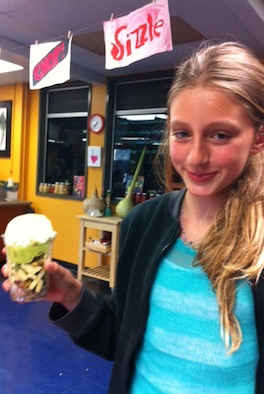 Her face says it all -- a tower of jicama and guacamole makes for delicious eating!