Family Nights Out at the Edible Schoolyard
Many King parents can tell you a lot about the Edible Schoolyard, but until recently, they had not experienced firsthand the educational power of the garden and the kitchen. Last week we hosted the first of our Family Nights Out, and King parents had the opportunity to roll up their sleeves, grab a chef's knife, and see for themselves what their child's excitement for the program is all about. Family Nights Out, the latest iteration of Edible Schoolyard parent classes, are open to the families of King students at all grade levels. At Family Nights Out, families cook and eat together, share recipes, learn new skills and cooking techniques, and discuss some of the bigger kitchen issues such as how to shop on a budget, how to build a pantry, and when and why to buy organic.
This spring, the Edible Schoolyard is hosting a series of three evening cooking classes as part of our Family Nights Out series. Families can sign up for one class, two classes, or all three, and each class builds on the skills and knowledge acquired in the previous classes. Family Class Coordinator Griselda Cooney has designed a curriculum based on a typical kitchen class that King students experience in the regular school day. However, since the family class also serves as a full dinner, Griselda has combined recipes from different grade levels to create cohesive and delicious menus for the classes. Last week, family class participants rolled and cut hand-made pasta, pounded kale pesto in mortar and pestles, and balanced flavors while making vinaigrette from scratch.
One of the most gratifying elements of our family classes has been to watch students become teachers. Since it is many parents' first time using the kitchen, the students took charge. Students were proud to have their families here, and their confidence in the kitchen was apparent as they showed their parents where to find tools and how to use them. For parents, it was an opportunity to see just how good their children are at cooking and that yes, the rumors are true, their child is good at washing dishes when they want to be! For the ESY staff, it was wonderful to have the opportunity to connect with students and their families outside of school. We heard about the triumphs of students' home cooking and reports on favorite ESY recipes recreated.
Parent classes also help strengthen the kitchen skills and knowledge of ingredients that students are learning in their kitchen classes. To us at the Edible Schoolyard, cooking is a vital skill for children to develop. We want parents to know what their child is learning in the kitchen so that when their child comes home, they are supported in their kitchen endeavors. The parent classes familiarize the whole family with different ingredients and methods to cook those ingredients while reinforcing the power of cooking and eating together.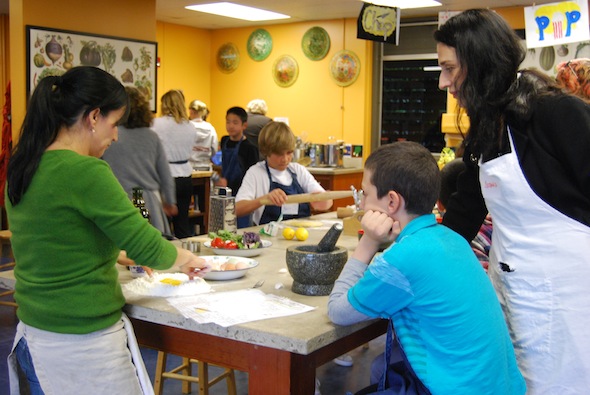 Griselda (in green) demonstrates to students and their families the process of making fresh pasta from scratch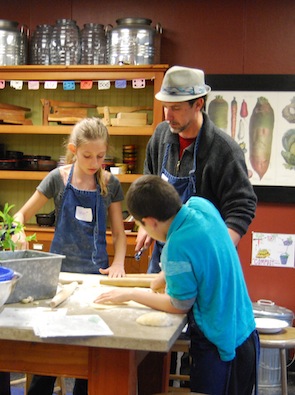 It is not uncommon to see students take the lead, teaching their family members techniques
learned previously in Edible Schoolyard classes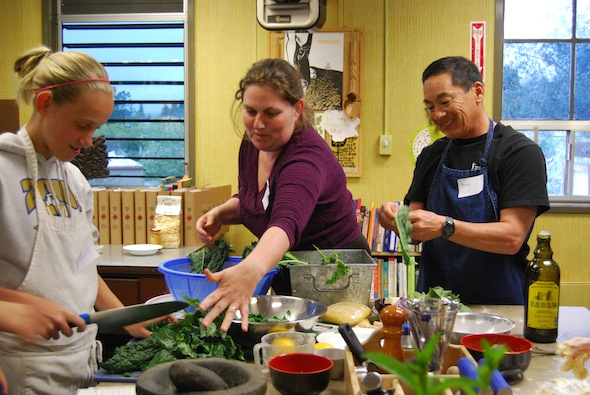 Even when made by hand using a mortar and pestle (foreground), kale pesto comes together
quickly when done by a team
There are jobs suited for cooks of all ages -- Family Nights Out are truly a multi-generational event!